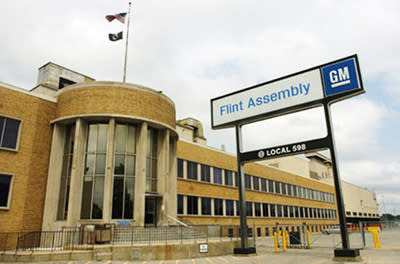 General Motors celebrated the production of its 500 millionth vehicle this summer, and now Flint & Genesee residents are invited to help the automaker commemorate the occasion. GM's Flint Assembly Plant on August 11 will host public tours and other activities to mark the milestone.
The Flint & Genesee Convention & Visitors Bureau will be on hand during the 8 a.m.-5 p.m. "500 Million Thanks" open house. From 8 a.m.-2 p.m., visitors will have the opportunity to tour the facility at 3100 Van Slyke Road.
"The CVB recognizes the tremendous role GM has played, and continues to play, in Flint & Genesee. We're honored to help coordinate bus logistics and provide other volunteer services during the celebration," said CVB Director Cheryl DeFrain.
Outside the plant, entertainment and activities will include:
Ride and Drive: GM's Professional Manager Network will host a ride and drive event during the day. (Must have a valid driver's license to drive a car.)
Car show: Flint Assembly employees will showcase some of their classic rides at a car show hosted in the parking lot behind UAW Region 1-D on Atherton Road. While touring the car show, visitors will also get a chance to see the UAW Sit-Down Memorial.
Keep it safe: GM has partnered with Safe Kids Worldwide to educate people about vehicle safety and perform child safety seat checks.
Bat shows: The Organization for Bat Conservation (OBC) will bring several creatures of the night for shows about how bats are actually very helpful, from eating annoying insects to pollinating plants.
Pawbusters flyball: Flint Assembly is home to the Pawbusters flyball dog team, which travels the country to compete against other flyball teams.
Robot demonstrations: Several GM-sponsored, award-winning FIRST Robotics teams will demonstrate their robotic creations.
Strike a pose: AFLAC is bringing back the Heisman Trophy for visitors to strike a winning pose with the iconic college football award.
Those who want to tour the plant should meet in the northwest parking lot. MTA busses will provide shuttles from the lot to the front of the building for the tours.