Flint & Genesee Tourism Ambassadors
The Flint & Genesee Tourism Ambassador Program helps align Flint & Genesee with a positive message about our community and inspires front-line employees, volunteers, businesses and residents to turn every visitor encounter into a positive experience. Flint & Genesee Tourism Ambassadors gain community pride—and help strengthen the brand of Flint & Genesee. 
Easy online enrollment is available at www.CTANetwork.com. 
About the Program 
The Flint & Genesee Tourism Ambassador Program teaches best practices in hospitality and ensures that everyone understands their role in increasing tourism. Participants increase their knowledge of the region, and learn how to turn every interaction into a positive one.  
What separates the Flint & Genesee Tourism Ambassador Program from other training programs is that it's a certification, not just training. Participants who complete the program receive a credential and accompanying initials that can be used behind their name to denote their commitment to their profession as a Certified Tourism Ambassador™ (e.g., Jim Smith, CTA). The CTA logo may also be used on websites and business cards/communications with approval.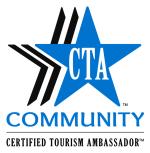 As an Accredited Provider, the Explore Flint & Genesee presents the official CTA designation on behalf of the Tourism Ambassador Institute®. 
By becoming a Certified Tourism Ambassador™ you'll have the tools and knowledge necessary to create a more memorable visitor experience and you'll reap the benefits. Being a CTA is a great achievement, and grants you access to a dedicated community that learns and celebrates together. 
Becoming a Certified Tourism Ambassador: 
Provides a meaningful industry credential 
Can increase business and lead to higher tips 
Builds valuable customer service and hospitality skills 
Supports career advancement 
Creates networking opportunities 
Gets you access to Flint & Genesee CTA newsletter with news, insider updates, and connection opportunities 
Cost 
There is a one-time non-refundable, non-transferable application fee of $30 per person and a minimal annual renewal fee. 
Please see class schedule below. Or access the class schedule and additional information online at www.CTANetwork.com. 
Program Requirements 
Every certification program requires successful completion of a core curriculum. The following recaps the requirements to earn the CTA designation: 
Complete required reading 
Attend half-day classroom session 
Complete learning assignments 
Complete open-book examination 
Upon successful completion, participants will earn the Certified Tourism Ambassador™ designation and receive a CTA certificate and lapel pin. An annual renewal process of certification is also necessary to maintain your certification. 
Program Curriculum 
Module 1: The Power of Tourism 
Module 2: Discovering Flint & Genesee 
Module 3: Knowing, Finding, Using Resources 
Module 4: Exceeding Customer Expectations 
The curriculum is delivered through reading assignments and in-class participation. 
---
Upcoming Tourism Ambassador Trainings