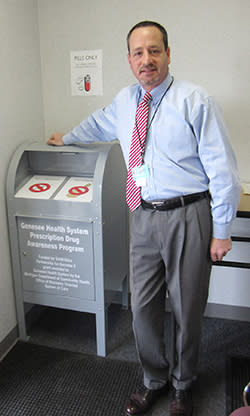 September 2, 2015
Baker College of Flint and the Flint Township Police Department have partnered to provide a convenient location for students, staff, faculty and area neighbors to properly dispose of unwanted and expired prescription pills.
The Drug Enforcement Administration (DEA) has authorized and designated the campus safety office as a prescription drug collection box site. It is open to the public 24 hours a day, seven days a week. Only pills are accepted – no liquids, patches or needles.
John Joseph, Baker College of Flint campus safety director, credits the Genesee Health System (GHS) and the Flint Township Police Department for making the opportunity available to Baker College. Joseph responded to a call from GHS to increase the permanent collection boxes at police departments within Genesee County. The GHS initiative is intended to help limit access to nonmedical use of prescription drugs.
Because the Baker College campus safety office is not a police agency, the Flint Township Police Department offered to partner with the Flint campus to qualify for the DEA designation. The police department is charged with disposing the collected medications.