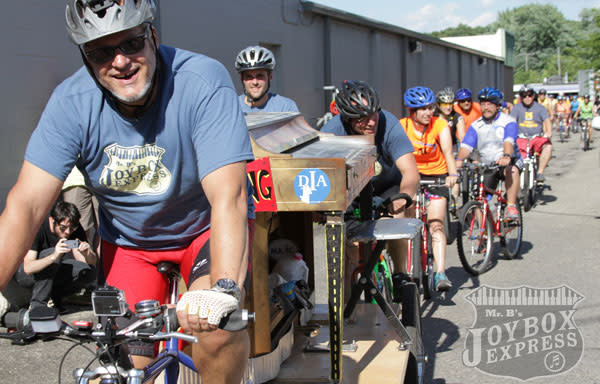 Mark Braun is a Flint-native who has performed for thousands at venues, including the National Arts Centre in Ottawa, Ontario, Simón Bolívar Amphitheatre in Mexico City and Chene Park in Detroit, to name a few.
And on Feb. 24, Braun – considered one of the most well-known living musicians of the blues piano tradition – will play an intimate concert at the Tunes & Ties fundraising gala at the Flint Golf Club.
The event is part of a yearlong campaign that will benefit the YouthQuest After School Initiative and culminate with an especially unique journey – one that involves transporting a 385-pound piano on a tricycle built for three from Flint to Mackinac Island this summer.
"There's really a strong sense of homage to me in this particular project because of my family's relationship to the city of Flint," said Braun, who graduated from Southwestern in 1975. "To reflect on the opportunity that my family enjoyed here – it means a lot to be able to help positively impact the people who live here now."
During the gala, guests will enjoy a 40- to 50-minute performance highlighting the history of the music, the history of his nonprofit Mr. B's Joybox Express, the "Sprint 4 Flint" project and a question-and-answer session.
Braun said he first began playing the piano in his early teens after his family won an organ through a raffle, and subsequently traded in the original prize for a color TV and upright piano.
Since then, he has appeared on numerous National Public Radio broadcasts (i.e., All Things Considered, Mountain Stage, etc.) and won several awards through the Detroit Metro Times and the City of Ann Arbor. Additionally, for some time, he was the youngest living member of the National Boogie Woogie Piano Hall of Fame.
Braun recently visited some of the YouthQuest sites and says he left feeling a whole new sense of enthusiasm for the fundraiser.
"It's one thing to hear about YouthQuest, it's a whole other thing to see it in action," Braun said. "You can just see in the demeanor of the kids; they're engaged, they're happy, they feel secure. It's an incredible program, and I'm glad to help support it."
Interested in attending the gala? To purchase tickets, click here for details or call Brandon Morgan at (810) 600-4072.