Flint & Genesee has been the home of many event spaces that have hosted legendary performances over the years. From large to small, this area has seen a little of everything. Tucked in between all the larger scale venues like the old IMA Sports Arena (now Dort Financial Event Center) and Kettering University's Atwood Stadium, are smaller spaces. These spaces may not have had famed acts like The Who, but they have had a lasting impact that still resonates today.
The Flint Local 432 was founded in 1985 by Joel Rash, a local music promoter who started by booking shows in the University of Michigan-Flint's event rooms. The Local, as it's called, was intended to be an all-ages space that focused on music and performances while keeping smoking, drinking, and drugs out of the venue. With connections to many seminal punk bands, Rash had the pipeline to bring in national touring acts as well as support local and regional bands just getting their first gigs.
Over the years the Local became a hub for area young people to go to experience some new music and to safely gather on weekend nights. The space was home to concerts from nationally touring acts like The Dismemberment Plan, My Chemical Romance, Fugazi, and Avenged Sevenfold, but also served as the space where local performers were able to grow past being just local, like the Chiodos, the Swellers, Army of Juan, and singer Ashley Peacock to name a few.  Throughout its history and through the many sites it has occupied, the Local has always stood as a proving ground for people with a passion for performing and remains that to this day.
The Local has adapted over the nearly forty years of its existence, and in its new space at 124 W. 1st Street, it has grown beyond being just a music venue. The Local has become a non-profit and part of Red Ink Flint, an arts organization. It offers events as varied as zombie walks and film festivals as well as talent showcases and album release parties. The second-floor space in the building serves as a business incubator and has been home to filmmakers and music studios over the years. Led by a board of directors that oversees the daily operation of the venue and its programming, the Local serves as one of very few places that offers an open door to events and music and encourages an entrepreneurial ideal.
Whether it's hosting a Girls Rock clinic and concert, supporting STEM activities for local youth, or serving as a launching pad for events and music alike, the Local has woven itself into the fabric of the Flint & Genesee community. What had begun as a space for punk rock concerts has evolved into a place for performances, events, and music of every genre. The Local remains a vibrant part of the local history and a driving, thriving force for the future and in retaining talented creatives.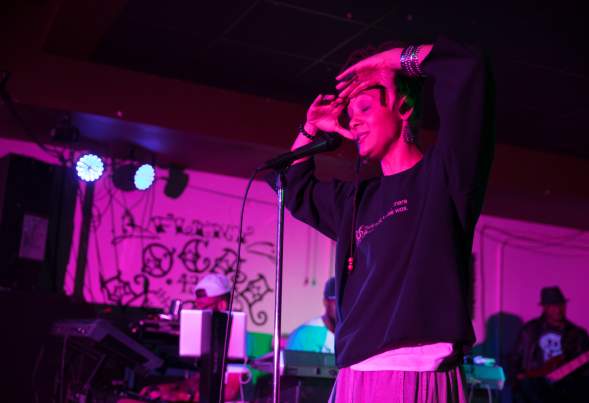 Flint Local 432 is one of the longest-running all-ages venues in the country, having hosted... Read More