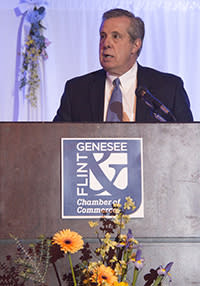 Tim Herman, CEO, Flint & Genesee Chamber of Commerce
(FLINT, MICH. – April 2, 2014) Today, the Flint & Genesee Chamber of Commerce announced that the Economic Development group collaborated with community partners on retention/expansion and attraction projects that totaled $442 million in investment and contract value for Genesee County.  The 2013 investment amount is a 455 percent increase over the year before.  The 25 investment projects also generated an estimated $246.3 in annual payroll. The announcement was made at the Chamber's 2014 Annual Meeting.
Tim Herman, Chamber CEO says the major increase in investment is evidence of a renewed confidence in the Flint & Genesee economy.
"Businesses in our region are starting to create more jobs, invest in equipment and expand their facilities," said Herman.  "New businesses are also making decisions to capitalize on the skilled workforce and transportation infrastructure available in Genesee County.  The good news is that we are benefitting from a diverse economic recovery that includes advanced manufacturing, biomedical and distribution."
The Chamber also announced that 1,974 jobs were created and retained in Flint & Genesee.    In addition, tourism was on the rise in the region providing an economic impact of $123 million from overnight hotel stays.
"Our region has unique assets that helped us retain and attract businesses," said Janice Karcher, Vice President of Economic Development for the Chamber.  "We are working to showcase our skilled workforce, infrastructure, education and training advantages, as well as our available business sites.  As a result, more firms are choosing to do business in Flint & Genesee."
To learn more about the advantages of growing and locating in Flint & Genesee, visit flintandgenesee.org.