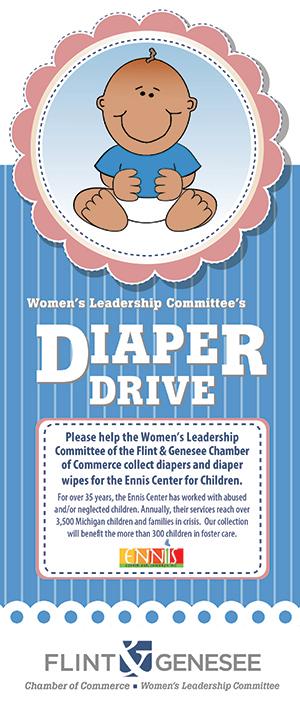 November 30, 2015
The Women's Leadership Committee of the Flint & Genesee Chamber of Commerce is holding a Diaper Drive from now until Dec. 15. All items – diapers and baby wipes – will be donated to the Ennis Center for Children in Flint.
Please contact Amber Taylor in Member Services at ataylor@flintandgenesee.org to donate to the Diaper Drive.
The Diaper Drive will wrap up the committee's 2015 activities. On Nov. 17, the group held its first Power Networking event at Americas Best Value Inn on Hill Rd.
Looking ahead to 2016, Power Networking events will be held quarterly. Additional activities are planned for the New Year, so stay tuned.
The Women's Leadership Committee brings area women who are members of the Chamber together to address issues affecting women. Its mission is to promote business growth by empowering, recognizing, and mentoring women in Flint & Genesee.
The committee also collaborates with other area women's organizations to sponsor programs of value to women. These endeavors provide recognition and opportunities for women to reach their leadership and business growth potential.
Women interested in joining the committee may apply HERE.