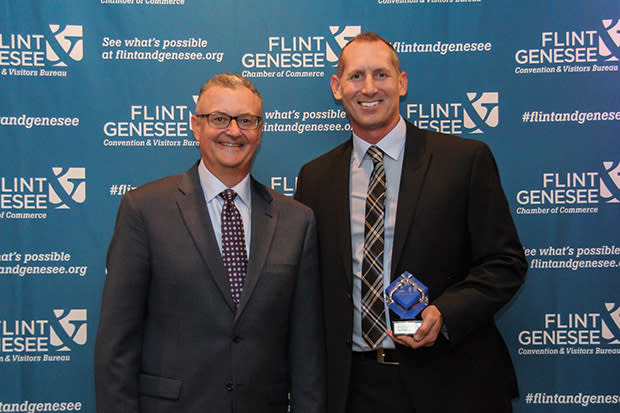 Kevin Babcock (right), 2015 Community Champion, poses with Bob Rummel, Chamber Operating Board Chair, during the 2015 Art of Achievement Awards.
November 30, 2015
The Flint & Genesee Chamber of Commerce along with the Convention and Visitors Bureau (CVB) recently honored this year's Community Champion at the 2nd Annual Art of Achievement Awards.
While honoree Kevin Babcock, who took home the 2015 recognition, has returned to his normal routine as an unofficial ambassador of Flint & Genesee, work has quietly begun on identifying the 2016 Community Champion.
A Community Champion is a person who belongs to a business association, civic association, social organization or religious group that conducts meetings on a state, regional or national level, and works to bring some of the related events to Genesee County – particularly those that require visitors to stay overnight.
"Our Community Champions are conduits that help connect visitors to the great amenities and services that we offer in Flint & Genesee," said CVB Director DeAndra McCain.
Tourism has a significant impact on the local economy.
"If we can do something as simple as increase the number of business meetings and sports event held in the area, we can grow the number of jobs, profits and tax revenue," said McCain.
Those individuals who've done an exceptional job of exposing the region to a wider base of tourists and visitors have been recognized by the Flint & Genesee business and hospitality communities. Flint & Genesee Community Champion Honor Roll:
Kevin Babcock – 2015
Bill Everett (posthumous) – 2014
David White – 2012/2013
The next name to appear on that esteemed list could be yours or a colleague's. And it's not too early to start thinking about next year's nominees.
"We want to bring more business meetings, events and visitors to our area," McCain said. "We need everyone to be ambassadors."
So think about organizations you are involved with, or have worked with; do they hold annual, quarterly or monthly meetings? If so, why not invite them to meet in Flint & Genesee!
If you are a member, leader, or an influencer of a group that meets regularly outside of Genesee County, partner with the CVB. That's all you have to do. Click HERE to learn more about how you can become a Community Champion or email DeAndra McCain at dmccain@flintandgenesee.org.