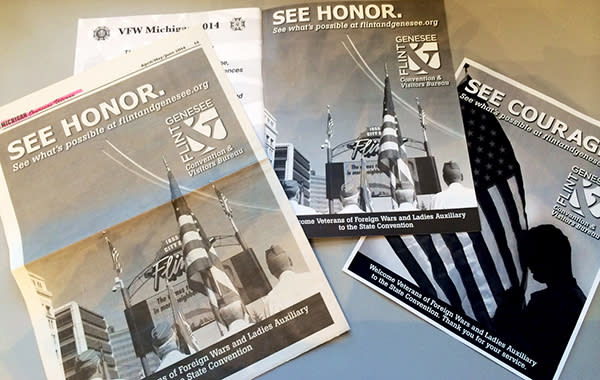 Flint & Genesee hotels, restaurants and other businesses benefitted as the Veterans of Foreign Wars returned for its State Convention last week. About 400 people per day were accommodated during the June 3-7 convention, including nearly 800 room nights at local hotels.
The 96th annual convention was the second major event this year for the VFW of the U.S. Department of Michigan, as Flint & Genesee hosted its April Testimonial event, garnering 75 room nights. The state convention is for hundreds of members of the Michigan VFW and the Ladies Auxiliary.
This is the second year of a three-year contract that the Flint & Genesee Convention & Visitors Bureau helped secure with the VFW to bring their conventions to Genesee County. The Holiday Inn Gateway Centre had bid on the VFW events, and the CVB gave money, support and services to help seal the deal.
"An event of this caliber and size has tremendous economic impact on Flint and Genesee County, so the CVB always does whatever it can to help bring organizations to our hotels and meeting spaces," said CVB Director Cheryl DeFrain. "From the bidding process until guests have come and gone, we're there to ensure that they leave with a positive view of Flint & Genesee."
The CVB provided money for promotional materials, letters of support and services in securing the three-year VFW contract. During the conventions, the CVB provides refreshments and information about local restaurants and attractions that the veterans can visit during their stay.
The CVB also has produced advertisements that the VFW liked so much that it included in the publication "Overseas Veteran."
The CVB supports Flint & Genesee for all tourism needs including, but not limited to, lodging, motor coach tours, conventions, sport activities, reunions, weddings, car shows and clubs, and individual tourism.
For more information, contact the Flint & Genesee CVB at (810) 600-1404 or cdefrain@flintandgenesee.org.