Guest blog post by Sherry Trautman
Did you know Flint Michigan is home to a famous treehouse that was featured on Animal Planet's Treehouse Masters?
I was intrigued, and a little starstruck, so I ventured to For-Mar Nature Preserve and Arboretum to see this architectural wonder for myself.
During the early planning phases, For-Mar determined their treehouse needed to hold 30 kids plus instructors with the stipulation that it must be barrier-free. They also wanted the treehouse to soar thirty feet in the air and overlook beautiful Kersley Creek so visitors could have a rare bird's eye view of animals and birds flitting, digging and crawling on the banks below.
The result? Several weeks later, an exquisite treehouse featuring a loft, learning center and barrier-free ramp was ready for its first group of excited children to enter its doors. Animal Planet was so impressed with For-Mar Nature Preserve and Arboretum's treehouse that it was featured on Season 8, Episode 3 of "Treehouse Masters." Come check it out for yourself!
Did you know you can ride a steam train in Flint Michigan?
I think steam trains are magical. I love the puffing sound the engine makes as it gathers speed along the tracks and the fluffy white clouds of steam that dances across my windows.
If you love steam trains as much I do, be sure to visit Crossroads Village & Huckleberry Railroad for an exciting steam train ride over sparkling rivers and through scenic forests. Visit Crossroads Village for an experience reminiscent of the 1800s era. Explore 34 historic buildings including a post office, general store, mill, and drying shed.
While you are there, be sure to visit the dentist's office – not for a cleaning – but to see the intimidating, and painful, dental tools used in the 1800s. Adventure and intrigue await you at Crossroads Village and Huckleberry Railroad!
Did you know you can watch live glassblowing in Flint Michigan?
Visit the Flint Institute of Arts to watch glass masters blow into pipes, spin and stretch molten glass, and transform the once gooey glass into fantastic works of art before your eyes. Prepare to be wowed with "ooh and ahh" worthy glass demonstrations in which molten glass seemingly defies gravity.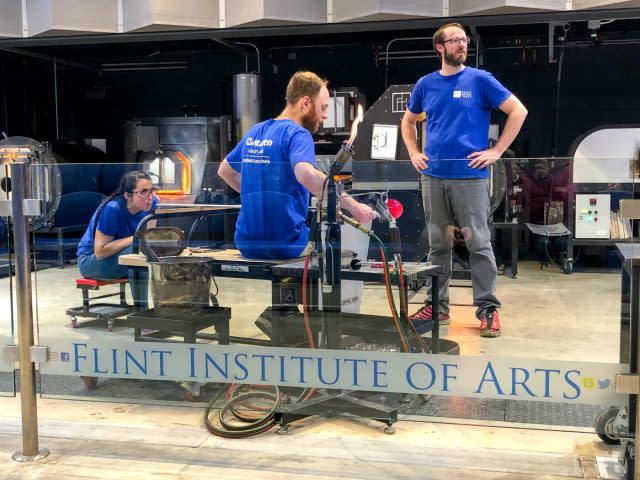 If the art of glassblowing intrigues you, consider signing up for a class so you can learn to create your own glass blown vessel! For more inspiration, wander the museum's Contemporary Craft Wing for outstanding examples of blown, cast, kiln formed and torch worked glass created by masters of the craft.
About the Author: As a born and raised Michigander, Sherry Trautman chronicles her and husband Chris' travel and food adventures across the state. She helps vacationers travel smartly, save money and get the most out of their Michigan adventures at www.travel-mi.com.
Discover more about Sherry and Chris' travels in Flint in their blog post "5 Interesting Places to Visit in Flint Michigan."