Skypoint Ventures executive David Ollila will be the keynote speaker at the 10th annual Jumpstart Entrepreneurs' Conference, presented by the Flint & Genesee Chamber of Commerce's eTEAM. The May 11 conference will also include a breakout session on Skypoint's Ferris Wheel project, which will be a shared office and innovation hub for budding entrepreneurs in downtown Flint.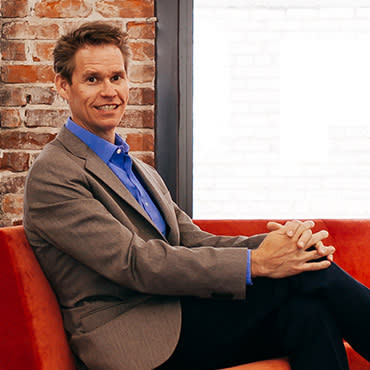 Ollila, Skypoint's President and Chief Innovation Officer, is a serial Innovator and entrepreneur with 12 patents to his name on everything from sporting goods to wearable technology. He is leading the charge in developing the Ferris Building, 615 S. Saginaw St., into an innovation hub that attracts talent and investment from across Michigan and beyond.
Ollila will share his experiences as an entrepreneur and the steps it takes to bring an idea to market. Before joining Skypoint, he was the Founding Director of Invent@NMU, a nationally recognized innovation and commercialization center located at Northern Michigan University.
Chemical Bank is the corporate sponsor of Jumpstart, which takes place May 11 from 8 a.m. to 1:30 p.m. at the Holiday Inn Flint-Grand Blanc, 5353 Gateway Centre.
Jumpstart was created to help entrepreneurs and small business owners can gain the knowledge and resources needed to start and grow a business. The conference attendees will have the opportunity to participate in following breakout sessions:
Starting a Food-oriented Small Business: Discover the tools and steps necessary to get your business started. This workshop will provide an array of information from labeling and licensing, to where products can be sold and much more.
What Does it Take: Insights on product development, prototyping, and tools and resources available to take your idea from concept to creation.
Ferris Wheel: Learn more about what the Ferris Wheel co-working space has to offer.
Social Media Marketing: Which social media platform should you use? When should you post? And what should you be talking about to engage potential customers? All these questions and more will be answered in this informational session that features real-time social media campaigns that have proven successful.
Understanding Socio- Economic Impacts with Government Contacting: Small business, women-owned small business, HUBZone, service disabled veteran owned small business, and small disadvantaged businesses that are interested in sustainable growth. Learn how these advantages can factor into your business.
Meet the Lender: What to Expect. Learn what to expect and what's involved in applying for a commercial bank loan, including SBA programs.
The cost to participate in Jumpstart is $20 per person and $10 for students. A continental breakfast and lunch is included.
Click here to register. For more information contact, Karena Hamlet, Business Development Specialist at khamlet@flintandgenesee.org.
Jumpstart was created by the Chamber's eTEAM to provide a one-stop shop for entrepreneurs and small business owners to gain valuable information. In addition, the Spark Awards and the Rising Star Awards honor up-and-coming business owners on the basis of their growth trajectory and entrepreneurial success. Spark Awards are presented to new businesses and the Rising Star recognizes early stage businesses that have exhibited growth.
The eTEAM is a regional collaboration of entrepreneurial service providers working to connect local entrepreneurs and small businesses with resources to promote growth and success. eTEAM member organizations, include:  Michigan Small Business Development Center, City of Flint, GST Michigan Works! and Metro Community Development, in addition to many other service providers.