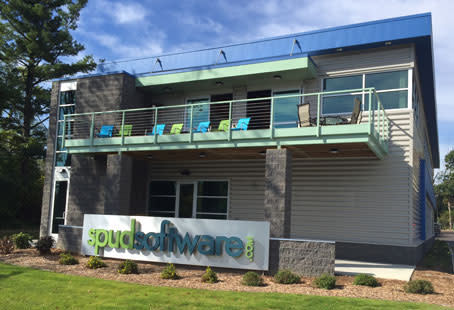 (GRAND BLANC TWP., Mich. – Sept. 24, 2015) Today, Spud Software cut the ribbon on its new 9,500-square-foot headquarters in Grand Blanc Township, doubling its size and making way for additional employees as the technology firm eyes growth.
The $2-million, two-story facility on South Saginaw Street employs more than 50 people who specialize in programming, and database and software development.
"I started this business 18 years ago in my basement out of my deep interest in programming, fixing computers and helping clients succeed," said President Derek Sommer. "Our success and reputation is built, first and foremost, on our attention to client service.
"When our clients are successful, Spud Software is successful."
Since its founding, Spud has grown into one of the state's leading technology firms. Spud Software was named as one of Michigan's 50 Companies to Watch in 2015 and was the Flint & Genesee Chamber of Commerce's Small Business of the Year in 2014. The company also has employees at Diplomat in Flint and an office in Orlando, Fla., and its software is used in all 50 states.
Spud moved into its new headquarters in late August from its former site next door, a 4,000-square-foot building affectionately known as "the barn." In addition to new furniture, the company is looking to fill four openings – two call-center operators and two programmers.
"We are pleased that Spud Software has chosen to remain in Grand Blanc Township as it continues to grow and prosper," said Grand Blanc Twp. Supervisor Micki Hoffman. "We pride ourselves on our business climate and infrastructure, and look forward to a long-term relationship with our business neighbor, Spud Software."
Tim Herman, CEO of the Flint & Genesee Chamber of Commerce said Spud Software has added a new chapter to its evolving story of success.
"Spud Software is a significant contributor to the ongoing diversification of Flint & Genesee's economy," said Herman. "With clients ranging from small local businesses to Fortune 500 companies, it has shown itself to be responsive to a variety of organizations. It's companies like Spud Software that are helping to move our region forward and why we're honored to join Derek and his team in celebrating this milestone achievement."
Sommer started Spud Software in 1997 to provide simple, customized software solutions for local businesses. After completing several successful large-scale projects for clients like General Motors and MSX International, Spud developed a reputation for delivering high-quality solutions quickly but at a much lower cost than big name software companies. To date, the Spud team has worked with more than 200 clients ranging from small, local start-up businesses to Fortune 500 companies, including Diplomat, General Motors, Toyota, Allstate, Chrysler, Janssen, NAPA, C&L Ward and Kan Rock Tire.