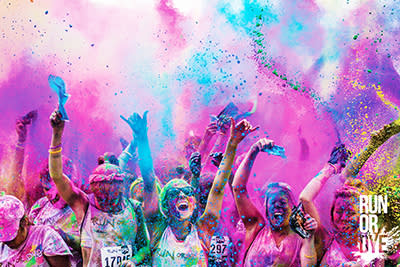 The Colorstorm is coming! The Flint & Genesee Convention and Visitors Bureau (FGCVB) is bringing a "Run or Dye" event to downtown Flint on Sunday, June 8. Early registration has already started.
Run or Dye events give participants a chance to have a color-filled, fun run and get showered in safe, eco-friendly, plant-based powdered dye at every kilometer, turning them into 3-D technicolor canvases.
Run or dye is for everyone. Participants are welcome to walk, run, dance, or skip their way to the finish line.  And Run or Dye is family-friendly -- kids 6 and under run FREE!
To register visit: www.runordye.com/locations/Flint