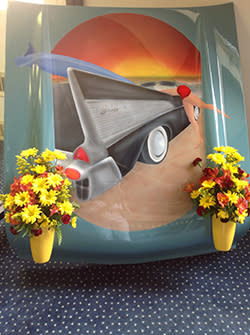 Registration for the annual Artomotive competition is open, and this year's artists could have their artwork voted on by more people than ever. For the first time, finished pieces will hang prominently in the Flint Farmers' Market.
"We think the foot traffic at the Flint Farmers' Market combined with the thousands of visitors here for Back to the Bricks could be a game-changer for this year's Artomotive competition," said Cheryl DeFrain, Director of the Flint & Genesee Convention & Visitors Bureau (CVB). "Seeing these magnificent car hoods painted and hanging in the Farmers' Market atrium will be quite the experience. This is a win-win for the artists, the market, our visitors – everyone!"
The third-annual Artomotive "Raise the Hood" competition is a major feature of the Back to the Bricks events for 2015. The automotive-themed art competition is co-sponsored by the CVB, Greater Flint Arts Council and the Back to the Bricks Statue Committee.
Body shop painters, traditional artists and the public in general are invited to participate in this summer's competition, which will culminate in an auction at the Farmers' Market during Back to the Bricks. Proceeds benefit the Back to the Bricks Statue Fund, which pays tribute to Flint's auto pioneers with statues in downtown Flint and other Genesee County locations.
Artomotive is open to anyone 18 or older. To enter, an application form and entry fee of $50 must be submitted to the Artomotive Committee. Artists will convert hoods supplied by the Artomotive Committee into works of art.
Finished artwork must be delivered by July 7. Applications can be found online at http://artomotive.org/artapp/ or at the Greater Flint Arts Council, 816 S. Saginaw St., Flint.
On July 10 during Flint's 2nd Friday Artwalk, the artists' hoods will be hung in the Farmers' Market and judged by a juried panel. First-, second- and third-place winners will receive cash prizes ($400, $300 and $175).
From July 11-August 15, the hoods will remain hanging in the market so the public can vote for an additional winner: "People's Choice." Visitors will be able to submit their votes at the CVB booth inside the market or via a mobile app. The People's Choice winner will receive $500.
On August 15 during Back to the Bricks, all four winning pieces will be sold via a public auction, and the other entries will be sold in a silent auction. Last year, the highest bid was $2,800, DeFrain said. Artists receive half of the proceeds, and the other half benefits the statue fund.
For more information, visit artomotive.org or contact DeFrain at cdefrain@flintandgenesee.org.