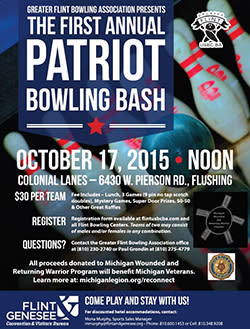 The Greater Flint Bowling Association is gearing up for its first-ever Patriot Bowling Bash, and it is reaching out to Flint & Genesee businesses in hopes of making it a big success. All proceeds will benefit Michigan veterans through the Michigan Wounded and Returning Warrior Program.
"The Bowling Bash organizers felt very strongly about helping a local cause," said Cheryl DeFrain, Director of the Flint & Genesee Convention & Visitors Bureau. "We're hoping that bowlers from all over the state will come to Genesee County for what promises not only to be an incredibly fun event, but also one that supports an extremely important cause."
The Patriot Bowling Bash will be held at noon October 17 at Colonial Lanes in Flushing, but organizers are reaching out to local businesses now. Ways that business can help include:
Donating door prizes
Providing raffle items
Sponsoring employee teams
Other sponsorships
The Michigan Wounded and Returning Warrior Program provides assistance to wounded and returning Michigan service members, wartime veterans and their families.
To learn more about the Patriot Bowling Bash, contact the Greater Flint Bowling Association office at (810) 230-2740 or Paul Grondin at (810) 275-4779. For accommodation information, contact Mona Murphy at the CVB: (810) 600-1453.