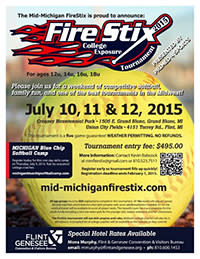 Hundreds of girls' fast-pitch softball players will get their shot in front of dozens of college coaches at the annual FireStix College Exposure Tournament on July 10-12 in Grand Blanc.
This is the fifth year for the tournament, which in addition to the three-day competition among nearly 100 teams, gives players the highly coveted opportunity to show their skills in front of college coaches. The Michigan Blue Chip Softball Camp, a one-day skills camp run by seasoned college coaches, will be held the day before the tournament, on July 9.
"Our tournament has grown to 98 teams this year, and players come from all over the state of Michigan, Ohio and Indiana," said tournament organizer Kevin Babcock, who added that 42 college coaches were in attendance for last year's tournament.
The FireStix Tournament – which is broken into the age divisions of 12 and under, 14U, 16U and 18U – will take place on 17 Grand Blanc-area ball fields, including Creasey Bicentennial Park in Grand Blanc Township and the Union City Fields on Torrey Road in Flint.
"Genesee County is a great location because of how centrally located we are in the state of Michigan," Babcock said. "It allows us to draw teams from northern, southern and western parts of Michigan. Also, it is a very convenient drive up I-75 for our teams from Ohio and Indiana."
The FireStix Tournament has grown so much in popularity that the 2015 tournament sold out back in December 2014. The tournament accounts for about 850 hotel room nights and provides a shot in the arm for the local economy.
"Sports tourism is huge for Genesee County, and the FireStix Tournament has grown to become our biggest event in terms of overnight stays," said Cheryl DeFrain, Director of the Flint & Genesee Convention & Visitors Bureau. "That economic impact also benefits our restaurants, convenience stores, gas stations and more."
Players always leave the tournament with a good impression of Genesee County, Babcock said.
"Not only is Genesee County a great place to play softball, it's also a great opportunity for the families to explore and visit," he said.
The CVB supports Flint & Genesee for all tourism needs including, but not limited to, lodging, motor coach tours, conventions, sport activities, reunions, weddings, car shows and clubs, and individual tourism.
For more information about the FireStix Tournament, visit http://mid-michiganfirestix.com/, contact Babcock at mmfirestix@gmail.com or (810) 523-7511, or contact the CVB's Mona Murphy at mmurphy@flintandgenesee.org or (810) 348-9208.