October 14, 2015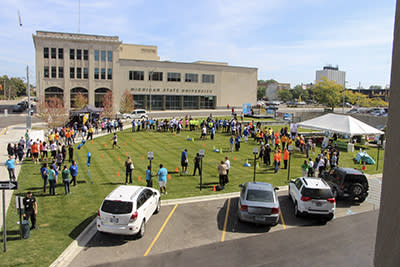 More than 100 businesses and organizations are competing in this year's "Commit to Fit: Fall 4 Fitness Challenge," a four-week program that challenges participants to log in at least 30 minutes of physical activity each day.
The annual challenge, which kicked off Oct. 1 and runs through Oct. 31, has resonated with the local business since the beginning, says Nick Bendall, Project Manager for the Greater Flint Health Coalition.
"When we started this in 2011, we were hoping for 10 businesses to participate," Bendall says. "We had over 50 in our first year. Since then, it keeps growing. We've engaged with more than 350 organizations in total."
While the goal of the challenge – to promote health and wellness within the local business community while creating some "healthy" competition – remains the same, there are some changes to this year's program.
For instance, to simplify the tracking process, the Commit to Fit! website now syncs with ore than 140 different wearable fitness devices and mobile apps. Event organizers have also added weekly giveaways for wearable fitness trackers, in addition to cash drawings, to further encourage participation.
Based on their employee participation, businesses can compete against one another for the designations of "Highest Level of Participation" and "Highest Level of Goal Attainment." The winners will earn the Commit to Fit! distinction of the "Healthiest Business in Genesee County."
While the challenge is well underway, it's not too late to sign up. According to Bendall, businesses and their employees can register through Oct. 17.
Commit to Fit! will continue to host free fitness and nutrition classes throughout the challenge as well which can be found online at commit2fit.com.
Looking forward, Commit to Fit! will launch its Health Holidays Challenge on Nov. 16. The four-week, individual challenge will run through Dec. 11 and challenge participants to earn points by tracking various healthy behaviors, such as eating veggies/fruits, drinking water, etc.