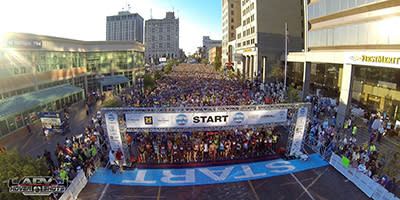 Here in Flint, we do run-run-run, we do run-run. So much so, that you might even say that we were born to run.
Bad puns aside, the running world has long taken note of our collective propensity to hit the bricks, thanks to the outstanding work and dedication of the Crim Fitness Foundation, the Riverbend Striders and countless local and visiting runners. Now, Club Running Magazine has officially designated Flint a "Runner Friendly Community®".
Local Road Runners Club of America (RRCA) chapter, the Riverbend Striders, partnered with the Crim Fitness Foundation to apply for the designation in 2014.
"This community has truly embraced running and walking as a healthy form of exercise and we need to promote that as much as we can," said Crim Race Director Andrew Younger. "This is an opportunity for us to shine a positive light on the city of Flint and show that we have a great infrastructure and a strong culture that supports running and walking."
Designations like these are helpful as the city and community members work together to implement the city's new master plan, said Alexandria Harris, Assistant Director of Events and Community Engagement for the Crim foundation.
"This new designation is a truly encouraging step forward," said Harris, who worked on the application. "There are so many people in the city of Flint who are working to create a safe, active community. That task can be daunting at times, but recognition like this shows that our efforts are making an impact. It shows progress and that can be a great motivator in continuing to make our community more accessible, active and healthy."
(Below an excerpt from Club Running Spring 2015 issue)
Located along the Flint River, 66 miles northwest of Detroit, Flint has a population of 102,434, making it the 7th-largest city in Michigan. Flint and Detroit are not only geographically close, but they share a similar recent economic history. Once a powerful center of automotive manufacturing, Flint and its residents have been greatly affected by the industry's struggles. While recovery from this hardship has come in fits and starts, some of the most innovative and creative policies, including infrastructure development, are what make Flint a Runner Friendly Community.