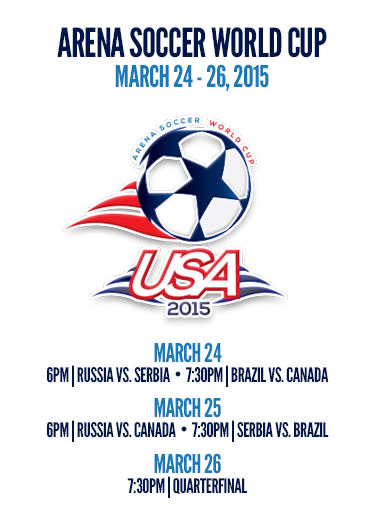 Flint & Genesee will be in the world spotlight this month as the Perani Arena & Event Center hosts the Arena Soccer World Cup. Flint is one of only nine sites across the United States chosen to host the tournament.
Perani will host competitors from Canada, Serbia, Brazil and Russia in matchups starting March 24. The other countries represented in the World Cup include the United States, England, India, Romania, Mexico, Germany, Czech Republic, El Salvador and Kazakhstan.
"The Arena Soccer World Cup shows that Flint & Genesee is equipped and ready to host world-class events," said Cheryl DeFrain, Director of the Flint & Genesee Convention & Visitors Bureau. "This is our opportunity to show the world what we have to offer – and that's excellent facilities, hotels, restaurants and the hospitality to make these athletes and guests feel welcome and comfortable in Flint & Genesee."
The Confederacion Panamericana de Minifutbol (CPM), in association with the World Minifootball Federation (WMF), announced that the opening round of the 2015 WMF World Cup will be played March 21-29 in the United States. The games at Perani Arena will be played March 24-26.
The tournament marks the first World Cup for the WMF, and will be the largest major world championship for arena soccer since the 1997 World Indoor Championships that were played in Mexico City. The WMF is the highest authority of arena soccer in the world.
For tickets and other Arena Soccer World Cup information, visit www.peraniarena.com.