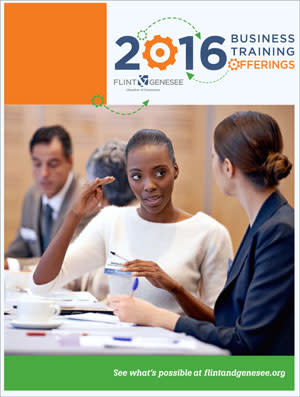 (FLINT, Mich. – Feb. 19, 2016) If you're looking to take advantage of professional development opportunities this year, the Flint & Genesee Chamber of Commerce is a good place to start. Based on participant feedback and requests from local businesses, the organization has nearly tripled its training sessions for 2016.
The release of the organization's new business training catalog includes 45 workshops led by local, regional and national professionals, as well as several other Chamber programs and events (i.e., Leadership NOW, Flint & Genesee Certified Tourism Ambassador).
"The growth of our community depends, in part, on a well-trained workforce," said George Wilkinson, Group Vice President at the Flint & Genesee Chamber. "With that in mind, we're offering a wide variety of educational offerings to help meet the diverse needs and interests of our local businesses and professionals."
According to Wilkinson, the Chamber is bringing back popular workshops from previous years, including Mornings @ MLive Media Group, Marketing Tips & Trends with the American Advertising Federation of Greater Flint and ZingTrain. This is in addition to introducing several new series' topics, including:
Collaborative Group Development, with Bart Crawford of Crawford Collaborative Consulting and Glen Fayolle of Vertex Innovation
Diversity & Inclusion, with Skot Welch of Global Bridgebuilders
Financial Planning, with Mark Minder of Minder Planning Group
Health, Wellness & Mindfulness, with the Crim Fitness Foundation and Hurley Medical Center
Leadership that Matters, with Betsy Haigh of the Awaken Leadership Center
Legal & Law, with Butzel Long's Detroit Office
Referrals for Life, with Tonya Acha of the Referral Institute
Workplace Safety, with Kathy Danaher of the Red Cross
"These training opportunities are a great way for individuals to build their skills and boost their competitive edge," Wilkinson said. "Each session will be hosted by an expert in his or her respective field, and will cover topics that are both relevant and timely."
Many of this year's workshops are offered at no cost to participants. For more information, or to download the business training catalog, click here. Hard copies are also available at the Flint & Genesee Chamber, at 519 S. Saginaw St., Flint.