Event to be Attended by Job Candidates Trained in Soft Skills, Workplace Readiness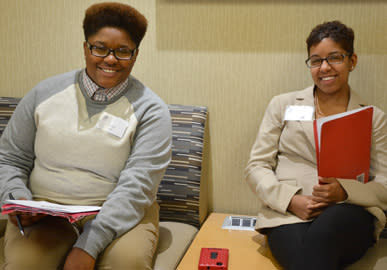 (FLINT, Mich., March 17, 2016) – Employers looking to fill entry-level positions will have the opportunity to recruit from hundreds of qualified candidates at the next Flint & Genesee Chamber of Commerce Job Fair, to be held April 22 at Baker College in Flint.
"The event will be attended by alumni of TeenQuest and Career Edge – both Chamber-administered training programs that focus on financial literacy, workplace readiness and soft skills (e.g., goal setting and conflict resolution).
"This isn't your typical job fair," said Rhetta Hunyady, Vice President of Education & Training at the Flint & Genesee Chamber of Commerce. "The job applicants have spent a considerable amount of time learning about what it takes to be a standout employee. And they're ready to put their new skills to work."
Prior to the invitation-only event, Chamber staff will review job seeker applications and schedule interviews based on mutual interests and opportunities. Applicants who cannot attend the job fair can also submit resumes, which will be routed to companies that may have employment opportunities based on their career pathways.
Companies that hire TeenQuest and Career Edge graduates through the job fair will also have an opportunity to apply for funds that cover up to half of normal hiring and employment costs during the first 90 days of employment. Please note that this is a limited resource based on available grant support.
The cost for employers to participate is free for Chamber members and $100 for non-members. The $100 fee can be applied toward a new Chamber membership.
Employers must register by April 1 to participate. To register, apply online.
While the April 22 job fair is designed for job seekers 18 years and older, a second job fair will be held for TeenQuest alumni ages 14-19 on April 23. As part of the Summer Youth Initiative (SYI) program, participating employers are matched with the teens for 10 weeks during the summer.
Businesses and nonprofits interested in participating in SYI can request a private meeting and review of their draft proposal by contacting Paula Stainbrook at 810-600-1413 or pstainbrook@flintandgenesee.org. The SYI RFP deadline is March 28. For more information, or to download the RFP application, click here.
About the Summer Youth Initiative and TeenQuest
The Summer Youth Initiative is a program that helps Flint-area teens find paid summer jobs. It's open to students who've completed the TeenQuest afterschool program, which provides pre-employment and leadership training to students ages 14 to 19 to help them succeed in college and the 21st century workplace. Both programs are administered by the Genesee Area Focus Fund, a supporting organization of the Flint & Genesee Chamber of Commerce, with support from the Charles Stewart Mott Foundation. To apply or learn more, visit www.flintandgenesee.org/teenquest.