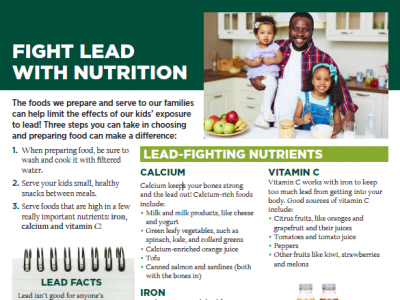 February 24, 2016
Earlier this month, Michigan State University Extension teamed up with community partners to launch Fight Lead Exposure, an informational website highlighting lead exposure and different programs that can help combat the effects of lead.
Since food can prevent the body from absorbing lead – which is especially important in the case of small children – the website encourages families to prepare meals featuring the following nutrients:
Calcium, which strengthens bones and prevents lead absorption. Found in dairy and leafy green vegetables, such as spinach, kale, collard greens and Swiss chard.
Iron, which prevents lead absorption. Found in lean red meats, fish, chicken, iron-fortified cereals and dried fruits.
Vitamin C, which helps the body absorb iron. Found in oranges, grapefruit, tomatoes, tomato juice and green peppers.
The website also highlights upcoming cooking demos featuring recipes rich in the aforementioned nutrients. The demonstrations, offered by Hurley Wellness Services and MSU Extension, along with Sean Gartland, Culinary Director of Flint Food Works, will teach attendees how to make:
Veggie Lasagna (Tuesday, March 1)
Hearty Egg Burrito (Thursday, March 3)
Chocolate Strawberry French Toast (Tuesday, March 8)
All demos kick off at 12:30 p.m. at the Flint Farmers' Market, at 300 E. 1st St., Flint. Attendees will also receive a Nutrition & Lead recipe set.
To access the Fight Lead exposure website, click here.