One of the locals' favorite ways to enjoy nature in Flint & Genesee is a trip down the Flint River. The Flint River Water Trail is 73 miles of water with 24 access-sites streaming through natural environments, small towns and urban areas from Lapeer to Montrose Township. The trail provides a unique experience for paddlers with a variety of opportunities and experiences.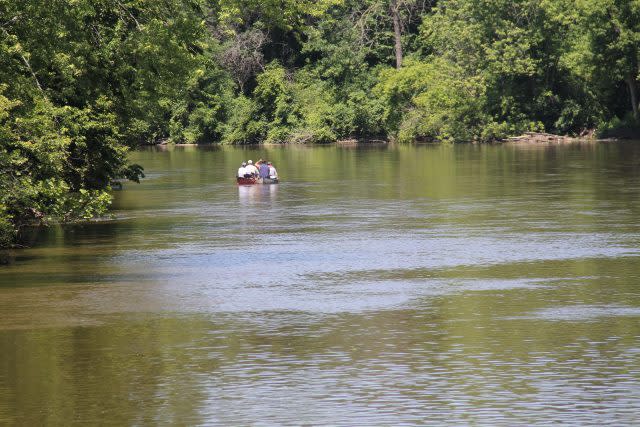 This year, the Flint River Watershed Coalition is hosting 15 guided kayaking trips in Lapeer and Genesee County through the summer season. Suitable for all experience levels, ages 10 and up, trips cost only $10 per person for participants with their own kayak or canoe, and $15 for rentals. The cost includes experienced guides, shuttling, water and snacks, sunscreen, bug spray and fun.
Trips scheduled for this year include:
June 3 Sunday Paddle – Paddle through Flushing
June 16 Saturday Paddle – Fun on the Flint
June 27 Wednesday Paddle – Lovely Lapeer
June 28 Thursday Paddle – Full Moon Float
July 14 Saturday Paddle – Wild and Wonderful Flint
July 19 Thursday Evening Paddle – Twilight Paddle
July 27 Friday Paddle – Full Moon Float
August 2 Thursday Evening Paddle – Escape your Day
August 4 Flint River Corridor Alliance 5th Annual Flotilla
August 26 Sunday Paddle – Full Moon Float
September 5 Lapeer Wednesday Paddle
September 8 Saturday Paddle – Lazy Day Paddle
September 15 Saturday Paddle
September 27 Thursday Paddle – An Evening with Yak
October 7 Sunday Paddle – Fall Color Float
Pre-registration is required for guided kayaking trips. For more information on the Flint River Watershed Coalition kayaking trips visit www.flintriver.org.
Photo courtesy of Flint River Watershed Coalition