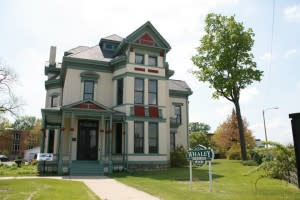 Whaley Historical House Museum
Step back in time to Victorian era Flint before the automobile industry boom in the city, to see what life was like in the Robert J. Whaley home. From parlor games to holiday traditions to the connection between domestic crafts and women's suffrage, Whaley Historical House Museum brings the Gilded Age in Flint to life.
The family's history is interwoven into the history of the city. During his tenure as president of Citizen Bank, Robert Whaley issued a $2,000 loan to William C. Durant and J. Dallas Dort that eventually led to the creation of General Motors. Mary (McFarlan) Whaley was the daughter of Alexander McFarlan, one of Flint's most prosperous and influential businessmen. Today they are most remembered for their philanthropy through the Whaley Children's Center and the McFarlan Home for Women.
The Whaley House Museum is open Monday through Friday by appointment and the first and third Saturdays of the month from 10:00 a.m. to 1:00 p.m. Tours are approximately 45 minutes long and include both the first and second floors of the house. Admission is $5 for adults (16 and older), $3 for students and youth (aged 6 to 15), and free for children 5 and under.