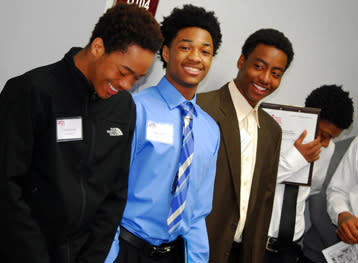 Nonprofit, For-profit Organizations Eligible for Wage Subsidy Funding
(FLINT, Mich., Dec. 29, 2015) – The Flint & Genesee Chamber of Commerce is seeking Genesee County-based businesses and nonprofits interested in hiring graduates of the TeenQuest pre-employment training program during the summer of 2016.
As part of the Summer Youth Initiative (SYI), participating employers are matched with TeenQuest alumni, ages 14-19, for 10 weeks during the summer. These employers are eligible to receive wage subsidy funding – up to 100 percent for nonprofit organizations and 50 percent for for-profit – for the first 90 days of employment.
"Not only does SYI offer an affordable option for employers with summer job openings, it provides them with a pool of qualified applicants," said Rhetta Hunyady, Vice President of Education and Training at the Flint & Genesee Chamber, which administers TeenQuest and SYI. "These are teens who understand the importance of soft skills like communication, goal setting and taking initiative."
TeenQuest is a free, afterschool program for high school students in Genesee County. It is offered five times a year and aims to provide students with the skills and knowledge necessary to obtain and keep a job.
Looking forward, the Chamber has released a Request for Proposal (RFP) for employers interested in participating in SYI in 2016. There will be an informational meeting about the program and employer application process from 9-10:30 a.m. Jan. 28 at the Chamber office, at 519 S. Saginaw St, Flint.
Those unable to attend the upcoming session can request a private meeting and review of their draft proposal by contacting Paula Stainbrook at 810-600-1413 or pstainbrook@flintandgenesee.org. The RFP deadline is March 28.
Last summer, nearly 400 teens were employed through SYI and the Michigan Department of Natural Resources summer program. Past SYI employers have included schools, summer day camps, urban gardening and community beautification projects, general office settings, retail and food service.
For more information, or to download the RFP application, click here.
About the Summer Youth Initiative and TeenQuest
The Summer Youth Initiative is a program that helps Flint-area teens find paid summer jobs. It's open to students who've completed the TeenQuest afterschool program, which provides pre-employment and leadership training to students ages 14 to 19 to help them succeed in college and the 21st century workplace. Both programs are administered by the Genesee Area Focus Fund, a supporting organization of the Flint & Genesee Chamber of Commerce, with support from the Charles Stewart Mott Foundation. To apply or learn more, visit www.flintandgenesee.org/teenquest.