October 14, 2015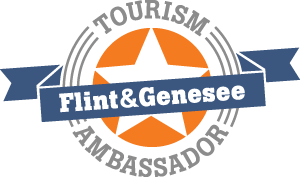 The Flint & Genesee Convention & Visitors Bureau (CVB) is looking for men and women who can help roll out the welcome mat for visitors to our region.
The CVB's Certified Tourism AmbassadorsTM (CTA) program is ready to start training volunteers and frontline employees of local businesses on how to turn every visitor encounter into a positive experience.
The first CTA class for the general public is Nov. 19, from 8 a.m. – 1 p.m., at the Dort Federal Credit Union Events Center. The cost is $30; business casual attire.
"With the completion of our field test earlier this month, we were able to certify 20 members of our community," said CVB Director DeAndra McCain. "Our goal over the next year is to have 500 Flint & Genesee CTAs."
The CTA program is an industry-recognized certification that focuses on the experience given to visitors, whether they are leisure travelers, business travelers or conference attendees. The curriculum is locally customized to expand a candidate's knowledge of Flint & Genesee to enhance the visitor experience. Candidates who complete the half-day program will be awarded a CTA pin and certificate.
Flint is the fifth major city in Michigan to offer the CTA Program, joining Grand Rapids, Ann Arbor, Lansing and Kalamazoo. There are more than 10,000 CTAs nationwide.
The CVB supports Flint & Genesee for all tourism needs including, but not limited to, lodging, motor coach tours, conventions, sport activities, reunions, weddings, car shows and clubs and individual tourism.
Interested participants can register at www.ctanetwork.com/app. Once the page opens, select 'Michigan' from the drop-down menu and then click on 'Flint & Genesee' to complete the enrollment application.
Additional classes are scheduled for Jan. 21, Feb. 17, Mar. 15, Apr. 13 and May 18.
For more information, contact Dawn Stableford at dstableford@flintandgenesee.org. You may also visit the website at https://www.flintandgenesee.org/visit/about-the-cvb/flint-genesee-tourism-ambassador-program/