$50,000 goal to win matching grant through MEDC's Public Spaces Community Places initiative
A dim alley in downtown Flint will soon be transformed into an engaging gathering space with the help of a new crowdfunding campaign, the Michigan Economic Development Corporation and Friends of the Alley announced today. The crowdfunding campaign is being run through Michigan-based platform Patronicity.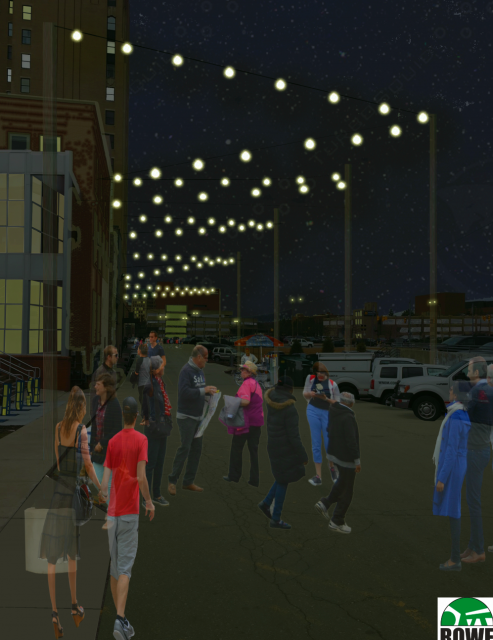 "This project will create a vibrant year round space that not only supports recent redevelopments but will drive further economic progress in the area," said MEDC Vice President of Community Development Katharine Czarnecki. "We are pleased to partner on and provide resources to Brush Alley through the Public Spaces Community Places program."
If the campaign reaches its crowdfunding goal of $50,000 by May 17, the project will earn a matching grant with funds made possible by MEDC's Public Spaces Community Places program. For project details and to donate, please visit: http://www.patronicity.com/lightup brushalley.
The funding will be used to beautify and bring pedestrians to this prime outdoor public gathering space in downtown Flint. Along Brush Alley there are several restaurants, business offices, and mixed use buildings with retail and residential units, as well as a public green space used for gatherings. Installing hanging lights, art work, planters and public seating will help to create another safe and engaging public space in Flint.
"Our campaign to light up Brush Alley is part of the journey for Friends of The Alley and our downtown community. Our mission is to beautify alleyways and public spaces to connect our residents, students, business owners and visitors with a safe and engaging outdoor space. It runs parallel with the revitalization of our downtown historic buildings and brings new destinations and opportunities for everyone," said Kristy Bearse, secretary for Friends of the Alley. "We are so excited to be offered this opportunity through the MEDC with the matching funds under the Public Spaces Community Places grant. It is surely to continue the momentum that we are experiencing."
Public Spaces Community Places is a collaborative effort of the MEDC, the Michigan Municipal League, and Patronicity in which local residents can use crowdfunding to be part of the development of strategic projects in their communities and be backed with a matching grant from MEDC. Communities, nonprofits and other business entities can apply at https://patronicity.com/puremichigan.
"The Michigan Municipal League strongly believes in the concept of placemaking and creating places and spaces people will love," said Michigan Municipal League CEO and Executive Director Dan Gilmartin. "It's especially exciting to see projects like this in Flint where they will take an under-used space, in this case an alley, and make it something people will enjoy for years to come."
The Public Spaces Community Places initiative started in 2014 with MEDC providing matched funding of up to $50,000 for community improvement projects throughout Michigan. As of April 2, 2017, MEDC has provided $3,475,500 in matching grants. Since the launch of the program, 107 projects have been successful in reaching their goal, with nearly $4.2 million raised from 18,474 individual donors.