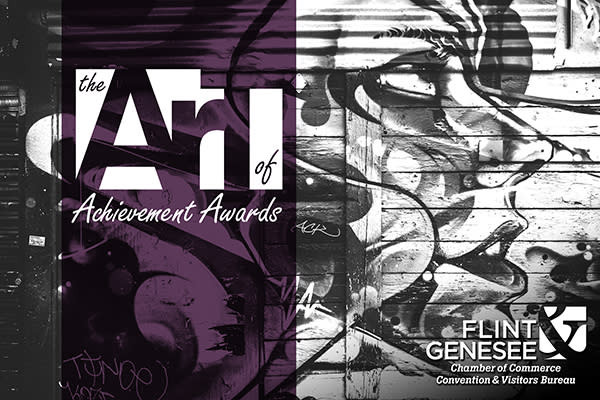 (FLINT, Mich. – Nov. 12, 2015) This evening, the Flint & Genesee Chamber of Commerce celebrated local businesses and customer-service providers who have gone above and beyond to positively impact the region in 2015.
About 350 people gathered at the Riverfront Banquet Center in downtown Flint to hear Robert Rummel, Senior Vice President of Chase and Chairman of the Chamber's Board of Directors present 13 Art of Achievement Awards to outstanding businesses, community supporters and hospitality industry professionals.
"The Art of Achievement Awards provide the perfect opportunity to publicly recognize some of the great companies that are investing in Flint and Genesee County, and contributing to our economic growth," said Rummel.
Kevin Babcock, who runs the FireStix Softball Tournament, was honored as the 2015 Community Champion. Babcock was recognized for his commitment to showcase Flint & Genesee with the annual the Mid-Michigan FireStix College Exposure Softball Tournament and the Michigan Blue Chip Softball Camp. The annual tournament attracts close to 1,500 high school softball players and their families to Genesee County.
Babcock works closely with the Flint & Genesee Convention and Visitors Bureau to provide hotel, restaurant and attraction information for participating teams and their supporters. Over the past 5 years, his work has had economic impact of nearly a $1 million for Flint & Genesee.
"Tonight's award recipients are companies and individuals who are business savvy, customer-focused and civic-minded," said Tim Herman, Chamber CEO. "One of the things they all have in common is their commitment to doing business right here in Genesee County.
"So on behalf of the entire business and hospitality communities, I want to thank them."
The 2015 Art of Achievement Awards also honored the following businesses and individuals:
CEO Business Award – C&L Ward
Small Business Award – Peerless Mattress Co.
Minority-Owned Business Award – Daughter of the King Royaltee
Claire M. White Award – Waneita Bovan, Owner of June's Floral Company
Small Business Contractor of the Year – ElectraMed Corporation
Young Professional Award – Ja'Nel Jamerson, Flint & Genesee Literacy Network
Nonprofit Impact Award – Food Bank of Eastern Michigan
Gloria J. DeHart Award – Mass Transportation Authority
Hospitality Ambassador Award – Frank Pepp, B's Bowling Center and Richfield Bowl
Frontline Ambassador Award – Alex Kadie, Flint Courtyard by Marriott
Restaurant of the Year – Applewood Café at Mott Community College
Hotel of the Year – Residence Inn by Marriott
The Awards were made possible by the following sponsors: Blue Cross Blue Shield of Michigan, Presenting Sponsor; Ferris State University, Dessert Sponsor. Awards sponsors include: Chase; Community Foundation of Greater Flint; ELGA Credit Union; FirstMerit Bank; the Food Bank of Eastern Michigan; Grand Blanc Motor Cars; the United Way of Genesee County; and University of Michigan-Flint.