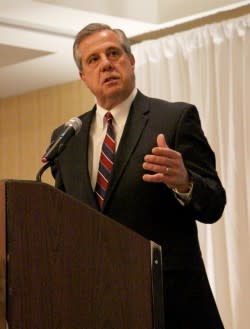 Tim Herman, CEO
(FLINT, Mich., July 10, 2015) – Did you know that the Flint & Genesee Chamber of Commerce has a Speakers Bureau available to area organizations?  The community outreach effort is one method Chamber employees use to share positive news about the region, while also raising awareness and understanding of the organization's programs and services.
This free service is ideal for non-profit, professional, educational, business and civic associations with an interest in Flint and Genesee County, said Tim Herman, CEO of the Chamber.
"The Speakers Bureau is a great resource for local organizations looking to book speakers for upcoming meetings, events and conferences," Herman said. "Our employees are deeply involved in the business and investment community, and can provide significant insight into some of the activities driving this region forward."
Potential topics include, but are not limited to:
Encouraging Tourism in Flint & Genesee
Government Contracting: Generating a New Revenue Stream
How to Become Involved in the Community's Revitalization
Public Policy Issues Affecting Business
The Latest in Local Economic Development
The Reinvention of Flint & Genesee
Understanding the Benefits of Shared Services
YouthQuest, TeenQuest/SYI and the Importance of Afterschool Programming
"These talks are a great way for community members to learn about what the Chamber does and our impact on the area's business climate and economic growth," Herman said.
Since 2012, Chamber leadership and staff members have addressed hundreds of Genesee County business professionals and residents during meetings at local chambers, schools, Rotary and Kiwanis clubs, churches and nonprofits.
Requests are evaluated based on the forum, subject matter and speaker availability.
For more information, or to request a speaker, visit www.flintandgenesee.org/news-room/speakers-bureau.