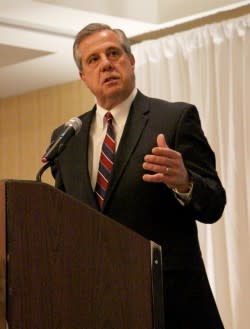 Requests for Flint & Genesee Chamber Speakers Double in 2015
(FLINT, Mich., Dec. 3, 2015) – Following an increased demand for Speakers Bureau services in 2015, the Flint & Genesee Chamber of Commerce is gearing up for a busy New Year.
"Our employees have participated in twice as many speaking engagements as they did last year, and we expect that trend to continue," said Tim Herman, CEO of the Flint & Genesee Chamber. "People want to know what's happening – what positive changes are occurring. This is confirmed not only by the speaker requests and word of mouth, but also through our social media networks."
The Chamber's Speakers Bureau initially launched in 2012 as a way to share positive news about the region, while also raising awareness and understanding of the organization's programs and services.
As part of the free service, employees are available to speak on a range of topics, including (but not limited to):
The Latest in Local Economic Development
Enhancing the Visitor Experience in Flint & Genesee
Growing Your Business with Government Contracting
Preparing the Workforce of Tomorrow with Soft Skills
YouthQuest: Keeping Students Engaged After 3 p.m.
Improving the Efficiency of the Region's Public-Sector Organizations
Over the past four years, Chamber leadership and staff members have addressed hundreds of Genesee County business professionals and residents during meetings at local chambers, schools, Rotary and Kiwanis clubs, churches and nonprofits.
To request a speaker for an upcoming meeting, event or conference, visit www.flintandgenesee.org/news-room/speakers-bureau. Requests are evaluated based on the forum, subject matter and speaker availability.