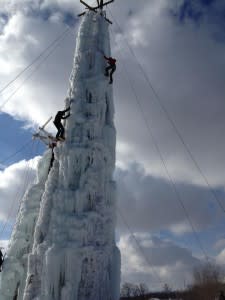 Peabody Ice Climbing Club in Fenton.
The Peabody Ice Climbing Club is the perfect group/place for those who truly love winter. The club maintains an ice climbing venue located in an old apple orchard just south of Fenton, Mich.
The site features two towers, 45 and 72 feet tall, that are iced over during winter months to offer a place for experienced ice climbers to train and to introduce novices to the sport.
The Club will provide instruction and gear if contacted in advance.  Call 810-433-3304 or email peabodyiceclimbing@gmail.com to request instruction or gear rental. For more information and some great photos, visit them online at peabodyiceclimbing.com.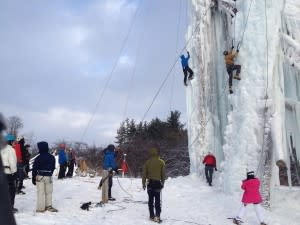 Peabody Ice Climbing Club in Fenton.