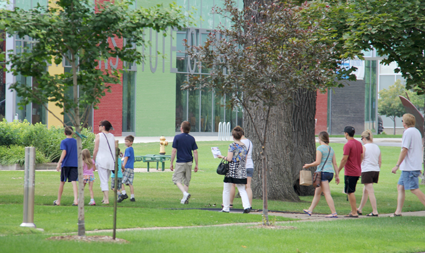 (FLINT, Mich., July 28, 2015) – The numbers are in and the results are clear. The 2015 "Be a Tourist in Your Home Town" event was a rousing success.
The event drew a record 978 participants – up nearly 58 percent over last year's turnout. The "tourists" had access to 38 participating attractions versus 19 the first year.
The Flint & Genesee Convention and Visitors Bureau (CVB) third annual "Be a Tourist" event, held July 18 from 10 a.m.-4 p.m., gave Flint & Genesee residents and non-residents alike the opportunity to experience the best the community has to offer – all for only $1.
Even though the event was a direct appeal to local residents to experience Flint & Genesee attractions anew, nearly a dozen states were represented among the "tourists," based on the area codes and zip codes entered on the registration logs. West coast states of Washington and California were represented, along with the East coast states of Massachusetts, New York, North Carolina and Florida. The states in between were Georgia, Louisiana, Texas and Oklahoma. A couple of international visitors were from Canada and Switzerland.
The tourists comprised a cross-section of the community, from young families and individuals, to older adults enjoying a day-trip. There were also a number of multi-generational families observed boarding the buses during the day.
"This is a great way to showcase some of the great amenities we have here in our community, and the enthusiasm for the event has caught on," said Tim Herman, CEO of the Flint & Genesee Chamber of Commerce. "It really is a Flint-area open house for residents and visitors to see and experience some of the venues that make Flint and Genesee a wonderful place to call home."
Tourist destinations were organized along three separated routes, served by four Mass Transportation Authority buses that operated on a continuous loop. The $1 passports provided access to all the venues throughout Flint and, in some cases, tourists were shown areas that usually are off-limits to the public.
"What's really encouraging is that we've seen a growing number of repeat 'tourists' since we began three years ago," said CVB Director Cheryl DeFrain. "People are coming back because they recognize the value and the beauty that we have here in Flint & Genesee, and they want to be able to tell others. As I have often said, we are our own best ambassadors."