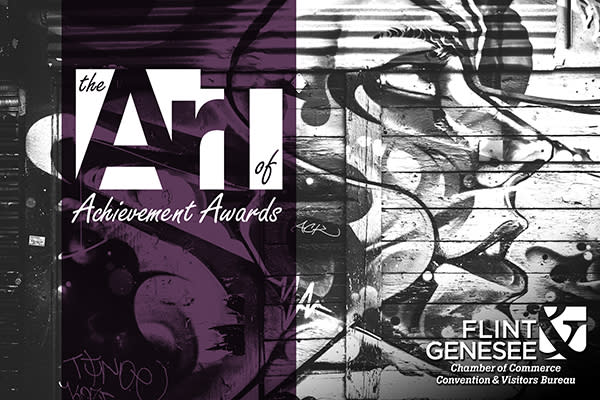 (FLINT, Mich. – Oct. 28, 2015) The Flint & Genesee Chamber of Commerce will again recognize business excellence and community leadership with the second annual Art of Achievement Awards.  The presentation gala is Nov. 12 at the Riverfront Banquet Center.
"The Art of Achievement celebrates some of the accomplishments that are helping move Flint & Genesee forward, in ways large and small," said Chamber CEO Tim Herman. "We've had a tremendous response to the call for nominations – nearly double the number received last year in some categories.
"We're excited that the selection committee has such a tough job ahead in picking the winners."
The following individuals and companies are nominees in the business category:
 CEO Business Award – Any company with 50 or more employees.
C&L Ward
Diplomat
Genesee Intermediate School District
Grand Blanc Motorcars, LTD.
Small Business Award – Any company with less than 50 employees.
Artistic Visions Enterprise
I.N.C. Systems
The Local Grocer
Martin Funeral Cremation/Tribute Services
Park Place Hair Studio
Peerless Mattress
Professional Nursing Services, Inc.
Pro Med Ambulance
Rollhaven Skating Center
Special Occasions East
The Yoga Loft
Minority Owned Business Award – Any minority-owned business in the community.
Artistic Visions Enterprise
Daughter of the King Royaltee
Park Place Hair Studio
Professional Nursing Services, Inc.
Universal EMS
 Nonprofit Impact Award – Any charity, church or nonprofit making great strides to positively impact any facet of the Flint and Genesee community.
Genesee Health Plan
Faith Lutheran Church
Mott Community College Women in Education
Dreams Do Come True
Food Bank of Eastern Michigan
Local Initiatives Support Corporation
Communities First, Inc.
Young Professional Leader Award – Any young professional 35 or younger making great strides to benefit their company and/or the community.
Jennifer Beamer, American Cancer Society
Steven Elkins, Digital Medics
Ja'Nel Jamerson, MCC Workforce Education Center
DeWaun E. Robinson, Artistic Visions Enterprise
Jennifer Wenzlick, Ground Floor Market
Glenn Wilson, Communities First, Inc.
Claire M. White Award – Honoring a woman working for the betterment of Flint & Genesee in community, career or someone else's life.
Waneita Bovan, June's Floral Company
Sally Shaheen Joseph, MCC Bd. of Trustees
Jessyca Mathews, Carman-Ainsworth Community Schools
Jill Nylander, Legal Services of Eastern Mich.
Gay Polley, Dover & Company
Tammy Wade, Mt. Morris Community Schools
Marsay Wells-Strozier, Center for Higher Educational Achievement
Small Business Contractor of the Year – Honoring a company that has excelled in past year with the aid of PTAC services and counseling.
ATI Group, Inc.
American Electric Motors
D M Burr Facilities Management
Electra-Med Corporation
Rowe Professional Services
The following companies and individuals are nominees in the hospitality category:
 Hotel of the Year – This award recognizes a Genesee County hotel for its outstanding service, comfort and attention to hotel guests, providing an excellent overall experience.
Comfort Inn – Grand Blanc
Courtyard
Fairfield Inn & Suites
Residence Inn
Holiday Inn Express & Suites – Grand Blanc
Holiday Inn Gateway Centre
Knob Hill Bed & Breakfast
Motel 6
Wingate by Wyndham
Restaurant of the Year
Applewood Café
Halo Burger
Lucky Steakhouse
Starlite Coney Island
Frontline Ambassador Award – This award recognizes a hospitality worker – front desk staff, host/hostess, housekeeper, guest services and maintenance – in a Genesee County hotel who provides outstanding service to guests staying at their establishment. The nominees are:
America's Best Value Inn & Suites
Baymont Inn & Suites
Katherine Goulet
Kimesha Williams
Comfort Inn – Grand Blanc
Courtyard – Flint/Grand Blanc
Chelsea Alm
Whitley Beckwith
Karen Birt
Teresa Cassady
Yvonne Davis
Latanya Hardy (Tee)
Dominique Hightower
Christopher Huffman
Alex Kadie
Kim Kapture
Juliana Kinabo
Geri Macauley
Kimberly Marme
Calvin Mims
Jeff Thomas
Fairfield Inn & Suites
Lydiah Conley
Monica Johnson
Ingrid King
Kat Mason
Tova Parks
Residence Inn Marriott
TaJuana Benton
Mary Bitson
LeMuel Coffee
Adrienne Fritzler
Lora Harden
Jay Heisler
Nathaniel Johnson
Ashley Mabry
Traci Wing
Holiday Inn Express & Suites – Grand Blanc
Sharonda Dillard
Mary Galloway
Greta Hopson
Sandra Johnson
Joyce Jones
Amber Lancaster
Holly Malik
Shalae Matthews
Robin Michael
Suzan Stengel
Amanda Wiggins
Holiday Inn Gateway Centre
Makala Allen
Ted Berlin
Gladys Clifton
Renee Hayes
Mallory Hibbard
Katie Hinman
Jean McCray
Tony Meyer
Tamera Reder
Autumn Redmond
Maricris Ritter
Alexis Rodgers
J. Porter's @ Holiday Inn Gateway
Ellen Bailey
Chantell Bridges
Asia Jones
Knob Hill Bed & Breakfast
Allan Griggs
Diana Phillips
Motel 6
Clinton Dill
Claudia Keaton
Rahachel Morris
Rhonda Myers
Debbie Vargas
Wingate by Wyndham
Kristina Littleton
Charmaine McKnuckle
Vickie Powell
Debbie Sauer
Teresa Sharpe
Georgia Shepherd
In addition, the Chamber will present several special honors, including the Gloria J. DeHart Award, Hospitality Ambassador Award and Community Champion Award.
Tickets are $75 and may be purchased online here.