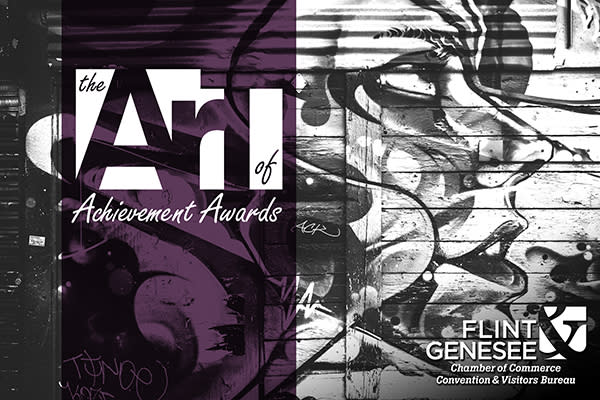 (FLINT, Mich. – Oct. 15, 2015) The nominations are in and being reviewed for the 2nd Annual Art of Achievement Awards.
In addition to honoring outstanding business and community leadership in Flint & Genesee, the Nov. 12 gala will showcase several of the area's foremost artists who will create elegant "street art" live on scene inside the Riverfront Banquet Center. The on-site creations of Charles Boike, Kevin Burdick and Matt Osmon will be sold via a silent auction conducted during the awards ceremony. Their work has been featured locally at Buckham Alley Fest, Aerosol and Audio, Table & Tap and the Flint Farmers' Market.
The Flint & Genesee Chamber of Commerce's 2015 Art of Achievement Awards will also feature a strolling dinner, music by Club 93.7 DJ Peter McFray, a photo lounge and other special entertainers. Robert Rummel, Senior Vice President of Chase and Chairman of the Chamber's Board of Directors, will emcee the awards' presentation. Blue Cross Blue Shield of Michigan is this year's Presenting Sponsor.
"Art of Achievement recognizes the business and community leaders, and hospitality professionals who have really stood out among their peers in 2015," said Heather Kale, Director of Member Services for the Chamber. "The winners are based on who is going above and beyond to positively impact Flint & Genesee.
"The gala is a great chance to mingle in a fun and energetic atmosphere. Holly Carlton, the Chamber's Events Manager, has some really nice touches in store for the evening."
In the business category, the honors include the: CEO Business Award; Small Business Award; Minority Owned Business Award; Claire M. White Award; Young Professional Leader Award; Nonprofit Impact Award; and Government Contractor of the Year.
The hospitality category: Gloria J. DeHart Award; Hospitality Ambassador Award; Frontline Ambassador Award; Restaurant of the Year; Hotel of the Year; and Community Champion Award.
The evening program:
5:15 p.m. – Registration
5:30 p.m. – Entertainment, Cocktails, Strolling Dinner
7:00 p.m. – Awards Presentation
Tickets are $75 and may be purchased online here.
Sponsorships are also available. For more information, contact Heather Kale at (810) 600-1427 or hkale@flintandgenesee.org.