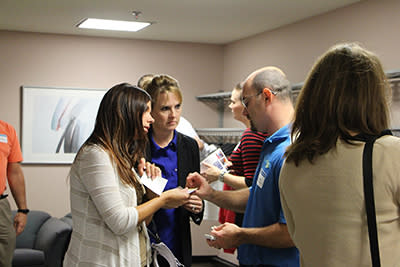 November 30, 2015
Whether you've been a member since 1981 or just joined last month, the Flint & Genesee Chamber of Commerce offers many benefits for your business.
"We have more than 1,000 businesses in our network, and there's a good reason for that," said Heather Kale, Director of Member Services. "We offer comprehensive resources – ranging from networking opportunities to training programs – that can help take your business to the next level."
Looking ahead to 2016, here are six ways to make the most of your Chamber membership in the New Year:
Identify what you want. By knowing what your goals are in partnering with the Chamber (i.e., business support, networking opportunities), our staff can be more effective in connecting you with the appropriate resources.
Look at the Chamber as another marketing vertical. Businesses can market their services and products in a number of ways – be it billboards, radio advertising or social media. We offer you the opportunity to maximize your brand exposure through opportunities like monthly networking events, such as Lunch is On Us and After Hours Wine Down.
Invest in the community by joining one of our many committees and groups. Our Women's Business Committee has been advocating and supporting women in business for more than 25 years, and our Disability Works Committee serves as a one-stop-shop for employers and employees seeking information and resources concerning people with disabilities in the workplace.
Learn new skills by attending a business workshop in 2016. (We'll be releasing the schedule within the next few weeks, so stay tuned!)
Get media relations support for major announcements, such as company expansions and new builds. We can also provide you with guidelines for writing your own press release, as well as a media list for distribution.
Utilize the Chamber staff. From offering afterschool enrichment programs to promoting tourism and business development, the Chamber has many programs and services that aim to help our region grow. Interested in learning about how your business can get involved? Let us know, and we'll connect you with the right people.
For more information about member benefits, visit www.flintandgenesee.org/connect.
If it's time to renew your membership, or you are not yet a Chamber, contact Heather Kale at 810-600-1427 or hkale@flintandgenesee.org.