Flint Restaurant Week 2017 will be held May 16-20. Organizers are working to expand the showcase beyond the downtown eateries. A full restaurant line-up will be announced next week.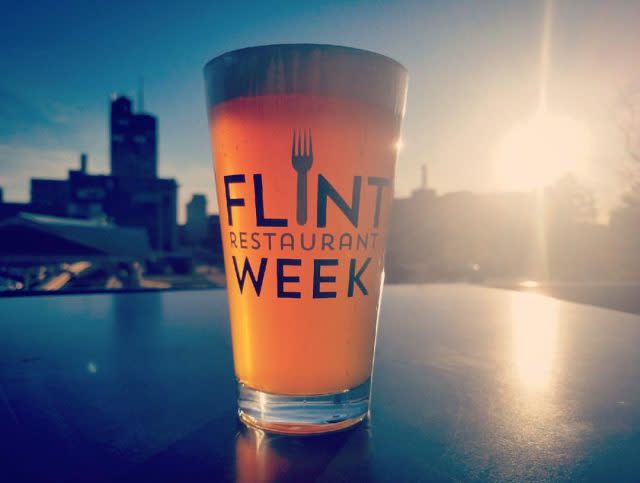 "Overall, Flint Restaurant Week was a huge success and had very positive effects on the community," said Ruegsegger, General Manager at Blackstones' Pub & Grill.
Laatz, General Manager of Soggy Bottom Bar, agreed. "We still have guests coming in and talking about what a great and positive experience Flint Restaurant Week was."
The inaugural Flint Restaurant Week was held last May with 19 participating locations. Each restaurant was given the opportunity to showcase their restaurant with unique FRW menus. The week also included special entertainment, a downtown pub crawl and tap takeovers. Attendees were encouraged to visit multiple restaurants to earn stamps in their passports to qualify for a special prize at the end of the week. Last year's prize was a commemorative pint glass and limited edition screen print poster.
Organizers said the first-year results were very encouraging:
Average of 32 percent increase in revenue across 18 different bars and restaurants compared to the same period one year prior. More than $171,000 increase in combined revenue.
Flint Farmers' Market saw an increase of 3,116 customers during the week compared to the same week the year prior.
Of the Passports completed and returned, 72 percent were from zip codes outside of the city of Flint.
More than 15,000 people visited local bars and restaurant over the five-day period, according to the restaurant's Point-of-Sale systems.
The two-day MLive ad blitz produced 263,954 impressions, with 925 click-throughs.
Billboard campaign consisted of eight different boards, with more than 5.1 million impressions over a four-week period.
Several establishments reported huge turnouts during the week, with sales comparable to those generated by Back to the Bricks' traffic.
The organizers said the first year was also a learning experience, which will help them in planning future events. They also said that a number of partners rallied behind the effort.
"There is no possible way we could have pulled this event off without the outpouring support from the local community," said Ruegsegger.
In addition to the C.S. Mott Foundation and GFAC, support was provided by: Flint & Genesee Convention and Visitors Bureau; Michigan Restaurant Association; National Restaurant Association; Olmsted Associates, Inc.; Gordon's Food Service; OUTFRONT Media; Townsquare Media; Sectorlink, graphic designer Brent Mosser, participating restaurants; and the countless number of others that offered up their help and support.
For more information, visit FlintRestaurantWeek.com.