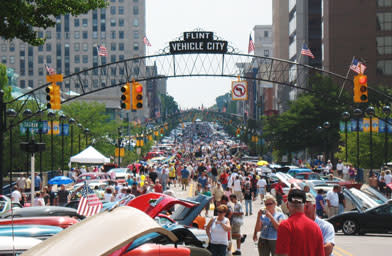 (FLINT, Mich., April 2, 2014) -- Tourism in Flint & Genesee generated $123 million in economic impact due to overnight hotel room rentals in Genesee County in 2013, according to the Flint & Genesee Convention & Visitors Bureau (FGCVB), an action group of the Flint & Genesee Chamber of Commerce.
Additionally, hotel occupancy was 54.4 percent, a 1.5 percent increase over the previous year, and lodging revenue rose 4.8 percent in 2013. Supporting the FGCVB efforts was the Flint & Genesee Chamber's web site, where an average of 1,292 new users visited the FGCVB section of the website per month.
"This is great news for Flint & Genesee," said Tim Herman, Chamber CEO. "More and more businesses, groups and organizations are hosting meeting and events in our community, and the economic impact is significant. The area has also become a travel destination for individuals and families looking for unique and fun experiences close to home."
Economic impact is calculated based on trackable room rentals at area hotels, meals, event tickets, gasoline and miscellaneous purchases, said Cheryl DeFrain, Director of the FGCVB.
"An example of a group with big economic impact is the Firestix College Exposure girls' softball tournament, held annually in Grand Blanc," said DeFrain. "The tournament generates approximately $562,000 per year of economic impact over a period of three days. Visiting athletes and their families have filled approximately 600 hotel rooms over the Fourth of July weekend for the past four years."
Sports tourism is a national trend that generates $600 million annually. The FGCVB works with a variety of sports tournament and event organizers, helping with site selection, providing restaurant and attraction information and identifying volunteers to assist in staffing events.
"The Convention & Visitors Bureau staff has done outstanding work in the two years since the organization merged with the Chamber," said Tim Herman, CEO of the Chamber. "They are an experienced and talented team of professionals who have successfully promoted our region as a travel destination."
The upward trend of tourism's impact on the Flint & Genesee economy is already evident in 2014. New groups scheduled to host large events in the county include the State Convention for the Veterans of Foreign Wars (VFW) in June, "Run or Dye," a fun run for charity involving colored dye stations along the course in June, and the Michigan National Limb Loss Educational Day event sponsored by Hurley Medical Center and the Amputee Coalition in May.
The VFW statewide convention is a multi-year commitment that includes the convention in 2014, 2015 and 2016 representing more than 600 reserved hotel rooms, and the VFW's April testimonial event in 2015 and 2016.
When the new Flint Farmer's Market opens with its community kitchen, the growth of farm-to-table collaborations in the county and the increase in microbreweries in the area, DeFrain said food tourism is another new opportunity for Flint & Genesee.
About the Convention and Visitors Bureau
The Flint & Genesee Convention and Visitors Bureau works to promote Flint & Genesee as a destination to overnight visitors and tourists by supporting the area's tourism needs including motor coach tours, conventions, sport activities, reunions, weddings, car shows and clubs and individual tourism.
For more information about the CVB, or what the CVB can do for you, contact Cheryl DeFrain at cdefrain@flintandgenesee.org or visit https://www.flintandgenesee.org/visit/about-the-cvb/.