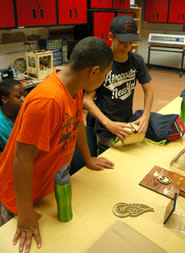 (FLINT, Mich. – June 18, 2014) Hundreds of YouthQuest students will soon strap on their back packs and take their imagination and adventurous spirit on the road.   The summer session of the YouthQuest afterschool program, "Summer on the Road", kicks off on June 30. Students from YouthQuest schools in Flint and Carman-Ainsworth districts and the International Academy of Flint will participate in the program at no charge.
YouthQuest is a free, afterschool and summer enrichment program that serves more than 2,000 students at school-based sites across Flint and Genesee County. It is a program of the Flint & Genesee Chamber of Commerce.
"YouthQuest Summer on the Road has the same goals as we do during the school year, excite students' imagination while learning, growing and having fun," said Rhetta Hunyady, Vice President, Education & Training, Flint & Genesee Chamber.  "They're going to have a blast!"
Focusing on themes such as "Outdoor Adventures", "In the Club", "Collegiate Final Four" and STEM Express, middle- and high-school students will have an active four weeks. For example, they will spend a good deal of time at Kettering focused on robotics, in the vehicle crash lab and on vehicle design, and have an opportunity to audit a class.  They will also participate in a Career Tour at the well-known sports arena Palace of Auburn Hills to learn about sports in a broader fashion.  Specifically, they will learn about the different types of careers associated with professional sports such as sports broadcasters, sports reporters and sports-focused public relations professionals, to name a few. One of the four weeks will serve as Collegiate Week, where students will spend time at local institutions such as Baker College of Flint, Mott Community College, University of Michigan-Flint, and they will travel south on I-75 to Wayne State University for a tour of the campus and downtown/midtown Detroit.
Elementary students will also have a great summer session. Each week will have a theme such as: "Mad Scientists" which focuses on STEM projects as well as biology and chemistry related activities; "Around the World in Five Days", which includes understanding global competencies with an emphasis on Australia, Africa and Asia and "Outdoor Explorers", focused on water and various outdoor habitats; and "Culture Club", spending time at the Flint Cultural Center.
YouthQuest employs programming strategies that nurture the development of skills and traits that lead students to post-secondary education and/or sustainable wage and growth opportunities.
For more information about YouthQuest, contact Program Director Sharri Newman at snewman@yquest.org or visit www.yquest.org .
About YouthQuest
YouthQuest is a high-quality, research-based afterschool program offering educational and enrichment activities that engage young minds. Available at 15 sites in the city of Flint and Genesee County, YouthQuest serves 2,000 students in grades K-12 each year. The program is administered by the Genesee Area Focus Fund, a supporting organization of the Flint & Genesee Chamber of Commerce, with support from the Charles Stewart Mott Foundation and 21st Century Community Learning Centers. For more information, visit www.yquest.org.