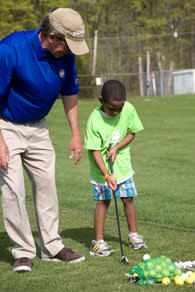 (FLINT, Mich., May 6, 2014) -- They have been preparing for this day for months, perfecting their backswing and putting technique. On Saturday, May 10, hundreds of Kindergarten to 8th grade students will take to the links when the YouthQuest program attends Family Golf Day at IMA Brookwood Golf Club from 9:00 a.m. to 1:00 p.m.
YouthQuest is a free, innovative afterschool and summer enrichment program that serves more than 2,000 K-8 students at 15 school-based sites in Flint and Genesee County. It is a program of the Flint & Genesee Chamber of Commerce.
The annual golf event is the culmination of months of indoor golf lessons from IMA Golf Pro Joe Simpson.  He visited each of the YouthQuest sites throughout the school year, introducing students to the rules and techniques of the sport. The event gives YouthQuest students and their families an opportunity to get active, learn more about the game of golf together, and tests the students' new skills on a real golf course.
Joe Simpson, IMA Brookwood Golf Professional enjoys the program as much as the YouthQuest students. "I enjoy passing along the love of the game and seeing the student's faces when they hit a good shot," he said.  "Golf is a life time sport. The etiquette of the game of golf teaches life lessons."
Family Golf Day at IMA Brookwood will feature golf lessons, a scavenger hunt and a fit and fun zone where students can participate in an obstacle course and games.  Lunch will include a Trick Shot Show by former golf professional Dennis Walter. PGA of America provides support for the event.
"Learning about the game of golf is just one of the enrichment activities YouthQuest students participate in throughout the year," said Rhetta Hunyady, Vice President of Education and Training for the Chamber.  "The end-of-year golf event provides students and their families an opportunity to enjoy a morning of fun activities together while students further hone their golfing skills.  We are proud to partner with PGA of America and IMA Brookwood to bring golfing fun to our families."
Simpson said he is amazed at the skill level of YouthQuest students have who have never golfed before. He would like make more opportunities to get students out to the course each year.
For more information about YouthQuest contact Rhetta Hunyady at rhunyady@flintandgenesee.org or visit http://www.yquest.org/.
About YouthQuest
YouthQuest is a high-quality, research-based afterschool program offering educational and enrichment activities that engage young minds. Available at 15 sites in the city of Flint and Genesee County, YouthQuest serves 2,000 students in grades K-12 each year. The program is administered by the Genesee Area Focus Fund, a supporting organization of the Flint & Genesee Chamber of Commerce, with support from the Charles Stewart Mott Foundation and 21st Century Community Learning Centers. For more information, visit www.yquest.org.