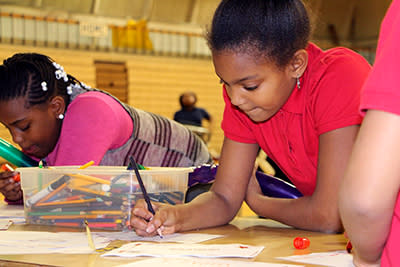 December 16, 2015
For the past four years, YouthQuest has participated in Macy's Believe campaign, which donates $1 to Make-A-Wish for every letter written to Santa and collected in stores, up to $1 million.
This holiday season, the afterschool program set an ambitious goal: to send more than 21,000 letters to Kris Kringle on National Believe Day (Dec. 11), when the retailer doubles its donation amount. Not only did the students and staff meet their goal, they surpassed it with a total of 38,941 letters.
"This campaign is always a fun one since it promotes literacy within a service learning project," said Sharri Newman, Director of YouthQuest, an afterschool enrichment program administered by the Flint & Genesee Chamber of Commerce. "Our students were determined to meet their goal, even though it was nearly three times the output they produced last year."
According to Newman, the students received support from their classmates, families and community, with letter submissions from the Boys and Girls Club, Mott Community College and local business professionals. Landaal Packaging also donated several mailboxes, designed specifically for the service project.
"Santa will be getting lots of letters from Flint and Genesee this year, all in the name of helping Make-A-Wish grant the wishes of children with life-threatening medical conditions," Newman said. "We're proud to support their cause and look forward to participating again next year."
Macy's Believe campaign officially runs through Dec. 24. To participate, drop off a stamped letter addressed to Santa in the designated letterbox inside your local Macy's store or send a letter through www.macys.com/believe.