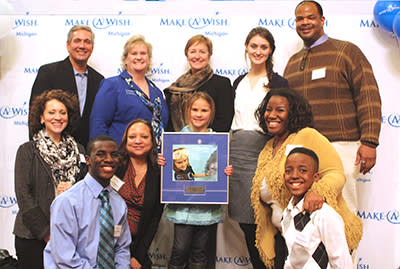 March 16, 2016
For the past four years, YouthQuest has participated in Macy's Believe campaign, which donates $1 to Make-A-Wish for every letter written to Santa and collected in stores.
This past holiday season, the afterschool program set an ambitious goal: to send more than 21,000 letters to Kris Kringle on National Believe Day (Dec. 11), when the retailer doubles its donation amount. Not only did the students and staff meet their goal, they surpassed it with a total of 38,941 letters.
But they didn't stop there. In fact, the students submitted an additional 2,059 letters, bringing their final tally to 41,000 – ultimately contributing nearly $80,000 toward the nonprofit's mission of granting wishes to children with life-threatening illnesses.
In recognition of YouthQuest's contribution, the afterschool program was presented recently with the Joy Award, which recognizes a school or youth program that has gone above and beyond to support Make-A-Wish Michigan.
"We are very proud to be recognized with the Joy Award," said Sharri Newman, YouthQuest's Program Director. "Make-A-Wish does incredible work, and our students are excited to know that their letters helped make a positive impact. It's been a great way to teach them about community service and stewardship."
For more information about Make-A-Wish Michigan, visit www.michigan.wish.org.