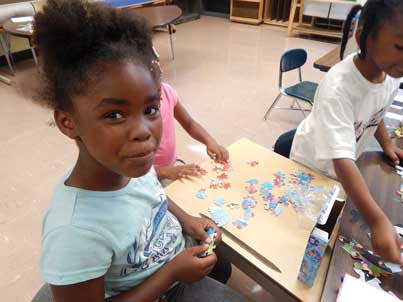 (FLINT, Mich. – October 16, 2015) YouthQuest is among more than 8,000 afterschool programs expected to participate in the 16th annual Lights On Afterschool rally. By hosting community events on or around Oct. 22, the free enrichment program aims to highlight the importance of providing programming for local youth after the final bell has sounded for the day.
"Last year, nearly 374,000 children were unsupervised between 3 and 6 p.m. in Michigan," said Sharri Newman, Director of YouthQuest, which is administered by the Flint & Genesee Chamber of Commerce. "That's roughly the same time our students were eating a nutritious dinner, engaging in academic activities, going on field trips, developing leadership skills and just having fun.
"Programs like YouthQuest offer families a better option – one that keeps students safe and puts them on the pathway to a brighter future."
YouthQuest serves approximately 2,000 students in grades K-12 at 14 schools throughout the Flint and Carman Ainsworth districts, in addition to the International Academy of Flint. These students are provided with academic support and enrichment opportunities three hours a day, four days a week during the school year.
Lights On Afterschool is organized by the Afterschool Alliance as a way to underscore the need to invest in afterschool programs. According to recent data from the nonprofit's America After 3PM report, 210,386 children in Michigan participated in an afterschool program in 2014, yet 625,026 – 44 percent of the state's total school enrollment – would have enrolled if a program were available.
"Quality afterschool programs help students hone their skills and discover their passions, preparing them to succeed in school and in life," said Jodi Grant, Executive Director of the Afterschool Alliance, the nonprofit behind the nationwide rally, in a statement. "But too many afterschool programs are without the resources they need to serve all the children in their communities who need them – and families, schools, communities and the country suffer as a result."
Starting next week, YouthQuest's 14 sites will host eight events open to the community as part of the Lights On Afterschool effort. Newman hopes the activities will demonstrate the significant impact afterschool programs have on not only students, but also their families and community.
"We invite our community members to see for themselves: there's significant value to 'keeping the lights on' after the regular school day ends," Newman said.
If you would like to attend one or more of the following events, please RSVP to info@yquest.org.
Wednesday, October 21, 2015
Lights On Celebration at Flint Southwestern Classical Academy (1420 W. 12th St., Flint)
In partnership with Pierce, Freeman, Neithercut and Potter elementary schools, the Southwestern YouthQuest site will host a petting zoo, dance party, magic show and more. 4-5:30 p.m.
Thursday, October 22, 2015
Halloween Family Dance at Randels Elementary (6022 Brobeck St., Flint)
Students, families and community members will learn about the importance of family involvement as they participate in fun activities including crafts, games and dancing. 5:30-7 p.m.
Lights On at Dye Elementary (1174 S. Graham Road, Flint)
Students will be charged with creating working circuits out of household items, including lights and batteries. 5:30-7 p.m.
Family Fun Night at Eisenhower Elementary (1235 Pershing St., Flint)
There will be several activities, including minute-to-win-it games, talent show dance-off and prizes. 4-5:30 p.m.
Storyboards at International Academy of Flint (2820 S. Saginaw St., Flint)
Students will create a "Week in YouthQuest" storyboard display, featuring photographs taken by students in grades K-3, with captions written by students in grades 4-6. 5-6 p.m.
Art Night at Durant-Tuuri-Mott Elementary (1518 University Ave, Flint)
In collaboration with the Crim Fitness Foundation's Community Education Initiative, students will work on a variety of art projects. 5:30-6:30 p.m.
Wednesday, October 28, 2015
Fall Festival at Doyle-Ryder Elementary (1040 N. Saginaw St., Flint)
Students and their families will rotate through various activity stations, including fear factor, pumpkin bowling, witches' ring toss and more. 5-6:30 p.m.
"Fox in Socks" Family Night at Holmes STEM Academy (6602 Oxley Drive, Flint)
In collaboration with Brownell STEM Academy and Northwestern High School, the Holmes YouthQuest site will celebrate the 50th anniversary of Dr. Suess' "Fox in Socks" with themed activities. 5-7 p.m.
About YouthQuest
YouthQuest is a high-quality, research-based afterschool program offering educational and enrichment activities that engage young minds. Available at 15 sites in the city of Flint and Genesee County, YouthQuest serves 2,000 students in grades K-12 each year. The program is administered by the Genesee Area Focus Fund, a supporting organization of the Flint & Genesee Chamber of Commerce, with support from the Charles Stewart Mott Foundation and 21st Century Community Learning Centers. For more information, visit www.yquest.org.