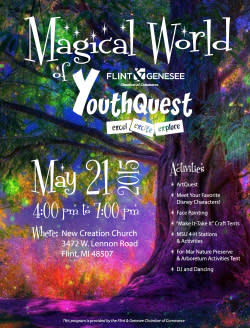 (FLINT, Mich., May 14, 2015) – Start by transforming a gymnasium into an enchanted forest, sprinkle in a couple dozen "magical" characters, invite 1,500 of your closest friends, and Bibbidi Bobbidi Boo – you have the "Magical World of YouthQuest"!
That's the title of the YouthQuest afterschool enrichment program's End of Year Event, which will be held 4-7 p.m. Thursday, May 21, at New Creation Church, 3472 Lennon Road, Flint. Students from all 18 YouthQuest program sites and their families will participate.
"Our YouthQuest students will be stepping into the most magical place on earth – or at least Genesee County," said Rhetta Hunyady, Vice President of Education & Training for the Flint & Genesee Chamber, which administers the YouthQuest program. "Our students have worked hard all year long, and this event is a wonderfully creative way to reward their efforts."
The event will center on the theme "nature" and will also include ArtQuest, an annual exhibition featuring several hundred pieces of YouthQuest students' art. The artwork will be displayed throughout a fairytale world that includes treehouses, about 25 children's characters and engaging activity booths.
YouthQuest is a comprehensive, free afterschool program that serves K-12 students throughout Flint Community Schools, in Carman Ainsworth, and at the International Academy of Flint.
For the End of Year Event, each YouthQuest site has been assigned two children's movies to replicate through painting and design. The students will engage with their counterparts from other YouthQuest sites through a sticker exchange and other activities.
Several community groups will be on hand to provide activity stations throughout the evening. Michigan State University 4-H will bring vegetables and paint for stamping projects, as well as origami. Make-it-take-it crafts, face painting, glitter tattoos, and princess and sorcerer hats and wands will also be offered.
Perhaps the most unusual station will be provided by For-Mar Nature Preserve & Arboretum, which will bring bullfrogs for a "kissing booth."
For more information about YouthQuest, contact Hunyady at rhunyady@flintandgenesee.org or visit http://www.yquest.org/.
About YouthQuest
YouthQuest is a high-quality, research-based afterschool program offering educational and enrichment activities that engage young minds. Available at 15 sites in the city of Flint and Genesee County, YouthQuest serves 2,000 students in grades K-12 each year. The program is administered by the Genesee Area Focus Fund, a supporting organization of the Flint & Genesee Chamber of Commerce, with support from the Charles Stewart Mott Foundation and 21st Century Community Learning Centers. For more information, visit www.yquest.org.