January 13, 2016
In recognition of Martin Luther King Jr. Day, more than 200 YouthQuest and Flint & Genesee Chamber of Commerce's employees will participate in service activities throughout Flint on Jan. 15 and Jan 18.
The activities fall in line with MLK Day of Service, the only federal holiday observed as a national day of service – a "day on, not a day off." The Corporation for National and Community Service says the day "empowers individuals, strengthens communities, bridges barriers, creates solutions to social problems, and moves us closer to Dr. King's vision of a 'Beloved Community.'"
According to Sharri Newman, Program Director for YouthQuest, an afterschool program serving approximately 2,000 students in Flint and Genesee, the day is a great reminder of the many different ways in which we can serve our community.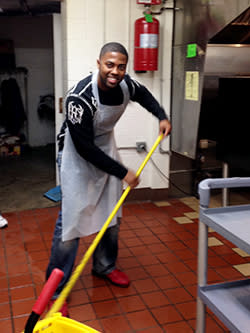 "Service and community engagement are key program areas for YouthQuest," Newman said. "This not applies not only to our students but our staff as well."
Service activities will include:
Sorting and separating food donations at the Food Bank of Eastern Michigan
Assisting with meals at South End Soup Kitchen, Center of Hope, My Brother's Keeper and Salvation Army
Cleaning dorm rooms and serving lunch at the Shelter of Flint
Cleaning dorm rooms and sorting clothing at Carriage Town Ministries
Making personal care packages and no-sew blankets for the homeless at Baker College
Playing trivia games with residents of Willowbrook Manor
Making catnip toys at the Genesee County Humane Society
For more information about MLK Service Day, visit www.mlkday.gov.