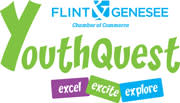 (FLINT, Mich. – November 20, 2015) More than 500 YouthQuest students and their family members are expected to attend an early Thanksgiving celebration at Southwestern Classical Academy on Wednesday, November 25. In addition to kicking off a canned food drive, the holiday dinner will highlight the important roles family, collaboration and community play in the free, afterschool enrichment program.
YouthQuest serves approximately 2,000 students in grades K-12 at 15 sites throughout Flint and Genesee. This particular event is a collaboration between five of those sites, including Southwestern, as well as Freeman, Neithercut, Pierce and Potter elementary schools.
"A key tenet of YouthQuest's programming is family and community engagement," said Sharri Newman, Director of YouthQuest, which is administered by the Flint & Genesee Chamber of Commerce. "By bringing together five of our sites for this event, we can celebrate that on a larger scale. This is about showing our students and their families that they are part of a community."
YouthQuest is offered three hours a day, four days a week during the school year, providing students with academic support, enrichment opportunities and nutritious dinner each day. As suggested by the event theme, Wednesday's meal will include the traditional Thanksgiving favorites, ranging from turkey and mashed potatoes to corn and rolls.
The family engagement night also marks the kick-off of a non-perishable food drive at the aforementioned YouthQuest sites. While the food drive will continue through Dec. 18, those who bring canned goods to the dinner will be entered into a raffle to receive one of five free Thanksgiving dinners.
According to Newman, community members are encouraged to participate in the food drive as well. Drop-off bins will be located near the main office in each of the participating schools.
Beyond the dinner, there will be several activities to engage those in attendance. This includes, but is not limited to, performances by Phi Beta Sigma Fraternity Inc. and the Sphinx Overture, balloon animals, henna tattoos and live animals from For-Mar Nature Preserve.
Students will also be writing letters to Santa as part of the program-wide "Wish Station" Service Learning project, which runs through Dec. 23. For every letter written, Macy's will donate $1 to Make-A-Wish. Last year, YouthQuest's letters helped raise $15,588. This year, the students aim to write 21,000 letters.
Members of the media are invited to attend the event, which is scheduled for 4-7 p.m.
About YouthQuest
YouthQuest is a high-quality, research-based afterschool program offering educational and enrichment activities that engage young minds. Available at 15 sites in the city of Flint and Genesee County, YouthQuest serves 2,000 students in grades K-12 each year. The program is administered by the Genesee Area Focus Fund, a supporting organization of the Flint & Genesee Chamber of Commerce, with support from the Charles Stewart Mott Foundation and 21st Century Community Learning Centers. For more information, visit www.yquest.org.