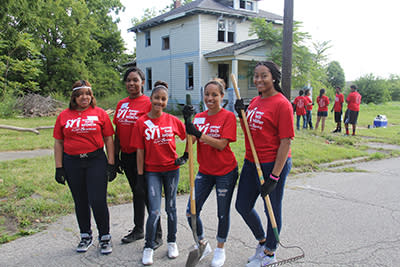 June 29, 2016
On July 28, more than 500 local teens will help spruce up six Flint neighborhoods as part of the annual Summer Youth Initiative (SYI) Volunteer Service Day. And – for the first time ever – the summer employment program is inviting the business community to join the teens in their beautification efforts.
"SYI's Service Day is an important component of the overall program," said Rhetta Hunyady, Vice President of Education & Training at the Flint & Genesee Chamber, which manages SYI. "It teaches the teens the value of volunteerism and having pride in their community. And by including our local businesses and organizations in the cleanup, we hope to show the students that volunteering is something that you can do at any age, in any career and at any professional level."
During the upcoming service day, employees and friends of the Flint & Genesee Chamber will help collect litter, mow unmaintained and vacant property and rake/bag grass clippings for compost.
The adults will work alongside teens, ages 14-19, who have graduated the TeenQuest pre-employment program and currently have a summer job at one of the 16 local organizations, listed below. The cleanup will take place from 8:30 a.m. to noon, and will be followed by a cookout reception for the SYI participants and volunteers.
If you or your business is interested in participating in the Volunteer Service Day, contact Christie Carpenter by July 20 at 810-600-1459 or ccarpenter@flintandgenesee.org.
2016 SYI Employers
Beecher Community Schools
Boys & Girls Club of Greater Flint
Catholic Charities of Shiawassee & Genesee County
Christ Enrichment Center
City of Flint
City of Grand Blanc
Flint Children's Museum
Flint Community Schools
Flint Public Library
Food Bank of Eastern Michigan
GCCARD
Genesee County Parks
Lakeville Community Schools
Linden Community Schools
Michigan Community Services
Mott Community College