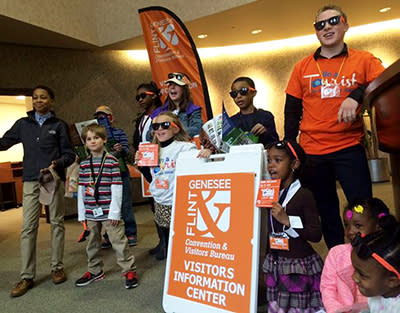 As hundreds of people make plans to converge on downtown Flint this summer, we're lining up the volunteers to greet them during the Flint & Genesee Convention & Visitors Bureau's annual "Be a Tourist in Your Home Town" event.
The one-day event on Saturday, July 18, will offer residents and nonresidents the opportunity to experience Flint & Genesee from a visitor's perspective.
For $1 per person, "tourists" (participants) can purchase a passport that allows them to visit and enjoy a wide range of venues.
"Our volunteers are a vital part of this day," CVB Director Cheryl DeFrain said. "'Be a Tourist' offers a wide array of activities at a tremendous value, but it's ultimately the people who can make or break a visitor's experience. We couldn't pull off this event without our volunteers."
Volunteer duties include helping out at the various tour sites and attractions, helping visitors on and off buses, giving directions, and assisting on buses and at registration.
The event runs 10 a.m.-4p.m. If you are available to volunteer all day or even half a day, contact the Flint & Genesee CVB at (810) 600-1404 or cdefrain@flintandgenesee.org.