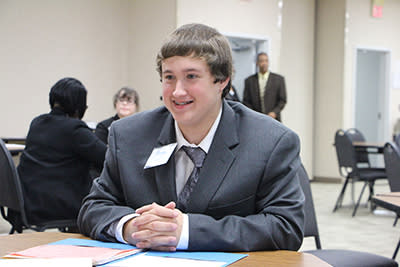 February 3, 2016
As the current TeenQuest class nears the end of its five-week, pre-employment training program, the teens have one last requirement to complete before they graduate: mock interviews.
Scheduled for Feb. 9 at Grand Blanc High School West Campus, the event provides students with real-world experience by putting them in front of actual employers and business professionals.
"Our students have spent the last five weeks learning leadership skills and practicing how to interview for a job," said Rhetta Hunyady, Vice President of Education & Training at the Chamber, which administers the TeenQuest program. "This gives them the opportunity to put their newly gained knowledge and skills to the test."
According to Hunyady, the event is good practice for the upcoming Summer Youth Initiative (SYI) job fair, which will connect hundreds of TeenQuest graduates with local employers during the summer. (Employers interested in participating in this year's summer program this year can click here for more information.)
In the meantime, the program is seeking individuals willing to serve as volunteer interviewers for the upcoming mock interviews. Volunteers will be provided with sample questions and rating sheets during the event, scheduled for 2:30-6 p.m.
If you're interested in interviewing during any portion of this timeframe, contact Betty Gilcreast at bettygilcreast@gmail.com or 810-397-8813.