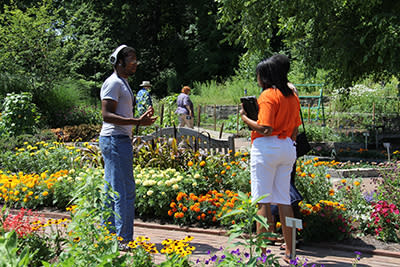 "Tourists" visit Applewood Estate during the 2013 Be a Tourist in Your Home Town event.
The Flint & Genesee Convention &Visitors Bureau will host the second annual "Be a Tourist in Your Home Town" on Saturday, July 19. The one-day event offers residents, and non-residents, an opportunity to see Flint & Genesee with new eyes.
For just $1 per person, "tourists" (participants) can purchase a Passport, which allows them to visit and enjoy many different venues. The 2014 Be A Tourist event features many of the downtown Flint area attractions from 2013 and some new sites.
Participating venues include: the Riverfront Residence Hall, The Capitol Theater, Whaley Historic House Museum, The Flint Institute of Arts, The Whiting (backstage tours), Applewood Estate, Sloan Museum, Buick Gallery and more. New this year will be the Flint Farmer's Market at their new downtown location and For-Mar Nature Preserve and Arboretum.
The Passport is also valid for discounts at many businesses and restaurants in downtown Flint's Entertainment District. Be A Tourist co-sponsor, Mass Transportation Authority (MTA), will provide transportation to venues along the route. Designated "Tourist" buses will run from 10 a.m. to 4 p.m.
To register or to see a complete list of venues, as well as the route visit www.flintandgenesee.org/events/tourist-home-town-crm-bat/. Contact Brian Sullivan (810) 600-1404 or bsullivan@flintandgenesee.org  for additional information.
Can't make it to the event? Follow the action on Twitter at #hometowntourist.