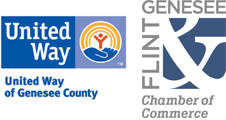 Two well-known leadership development programs serving Flint and Genesee County have merged to become one. Leadership NOW! – Optimizing Leadership Effectiveness is a comprehensive program for the region's emerging, high-potential leaders working in the public, private and nonprofit sectors.
Leadership NOW! combines the strengths of the Flint & Genesee Chamber of Commerce's Leadership Alliance and the United Way of Genesee County's BEST Nonprofit Leadership Institute (BNLI) under one roof to create an intensive development program for people to positively impact the region through inspired leadership. Designed for individuals who want to develop their professional leadership skills and give back to the community, Leadership NOW! targets executives, board members, department heads, elected officials, emerging leaders and influencers who have experience in either the private, public or nonprofit sectors. Participants must reside or work in Genesee County.
"Flint and Genesee is on the move, and the goal of Leadership NOW! is to help nurture the professional growth of the women and men who will lead our region forward," said Tim Herman, CEO, Flint & Genesee Chamber.